2006-03-21 Papp Laszlo Arena, Budapest, Hungary
From DM Live - the Depeche Mode live encyclopedia for the masses
Jump to navigation
Jump to search
Notes
The first three tracks from this concert are available as a soundboard recording. These tracks were pro-shot for the press.
You can watch a fan-made recording of the entire concert here.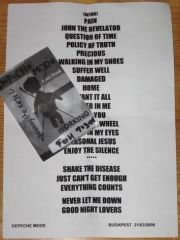 Set list
Intro
Damaged People (*)
Home (*)
Sources
Source 1 is the first three tracks from the soundboard from a pro-shot press video.
Sources
Source 1 is a pro-shot soundboard recording.
Source 2 is a mono soundboard recording.