1984-06-02 Suedwest Stadium, Ludwigshafen, Germany/Source 2
From DM Live - the Depeche Mode live encyclopedia for the masses
Jump to navigation
Jump to search
Notes
Eight songs from this concert (out of eleven) were re-aired on the French FM radio station "Europe 1" during the program "Feedback", presented by DJ Bernard Lenoir. His DJ chatter is thankfully not as disruptive as the FM broadcast of 1981-09-29 Paris and is generally only heard between some of the songs.
This particular recording sounds vastly better than the previous unconfirmed generation cassette source for this rebroadcast. There is almost no tape hiss, and excellent stereo separation (the previous version was mono due to a severely damaged channel).
Note that this concert had the "live" debut of People Are People. It's an unusual hybrid of live and playback, with mostly live vocals and some keyboard parts played live. Additionally, Dave misses several verses during More Than A Party.
Songs which were previously aired aren't part of this rebroadcast are: "Shame", "And Then...", and "Told You So". Those can be found at Source 1.
Listen
You can listen to this entire recording below.
Track list
Lineage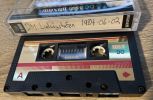 FM radio (unknown tuner) -> Aiwa cassette deck (unknown model) -> Maxell UDS-II 90 type II cassette tape -> Nakamichi MR-1 professional discrete head cassette deck (playback azimuth optimized) -> Mogami 2534 XLR to TRS cables -> Focusrite Scarlett 2i2 3rd gen USB audio interface -> WAV (32/88.2) -> recorded in Audacity 3.0.2 using WASAPI input; normalized to -0.1dB and any DC offset removed, track splits -> WAV (32/88.2) -> downsampled to FLAC level 8 (16/44) using foobar2000 v1.6.6, FLAC 1.3.3 64-bit, and foobar2000's Resampler (SoX) component v0.8.3 (best quality), dithering enabled
Generation: master
Transfer: DMLiveWiki on July 24, 2021
Cassette tape photo and auCDtectTaskManager log included
Download