1984-11-21 Friedrich-Ebert-Halle, Ludwigshafen, Germany/Source 1
From DM Live - the Depeche Mode live encyclopedia for the masses
Jump to navigation
Jump to search
Notes
A very good audience recording. Some distortion at times, but otherwise enjoyable. There is a tape flip one minute in to Lie To Me and about 30 seconds of music is lost. The first several seconds of the concert intro is also missing. This source is much better sounding than the previous FLAC version of this source that was available, no doubt due to the low generation and transfer using very good equipment.
Many thanks to darkdevoted for obtaining the tape and performing the transfer.
Listen
You can listen to this entire recording below.
Track list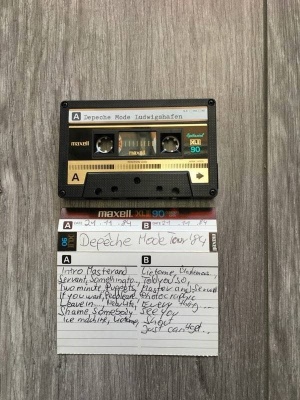 Lineage
master recording (unknown equipment) -> first generation Maxell XLII 90 high position cassette, 1982 - 1984 Europe stock -> Technics RS-AZ7 cassette deck -> Yamaha RX-V1300RDS receiver -> Roland R-05 (24/48) -> WAV (24/48) -> in Adobe Audition CC 2015: slowed down 3.0%, normalized to -0.1dB and any DC bias removed, dropout near end of Two Minute Warning patched -> WAV (24/48) -> tracked using Audacity 2.1.1 -> WAV (24/48) tracks -> FLAC 16-bit 44.1khz using FLAC 1.3.1 64-bit (level 8 compression) and foobar2000 v1.3.10 with its Resampler (SoX) component v0.8.3 (best quality), dithering enabled
Taper: Elly Apfel
Position: near speaker in front of Alan Wilder
Transfer: darkdevoted
Cassette photo and auCDtectTaskManager log included
Download