1985-07-07 Werchter Festival, Werchter, Belgium
From DM Live - the Depeche Mode live encyclopedia for the masses
Jump to navigation
Jump to search
Notes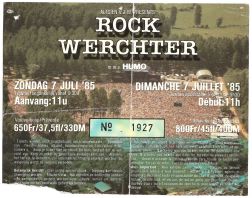 Dave Gahan said to Belgian TV show 'De Rode Loper' in 2009:
"I think it was the gig - I don't know how many years ago that was - when it turned things around for us in Belgium. I think - all of a sudden - there was a lot of people there of course, there were a lot of people that were maybe the sort of naysayers. And then we put on a really good show, and it seemed that after that, we were able to play Forest-National and stuff like that on our own back. So it'll be fun going back [to Belgium], yeah."
Dave Gahan was asked about this concert again in 2015 by Studio Brussel:
Dave: One of the best memories [about Belgium] is actually playing at Werchter when we were much younger, and we were very low down on the bill. The kind of music we were making and the kind of instrumentation that we used was... people were kind of terrified of it, that it was gonna destroy rock music. At the time, it was really... we were told before the show, "This might not go down well, you might..." So, it kind of... We were always good at taking a challenge. And we went on stage, and there was definitely some of our fans there, a few - couple of thousand - out of the huge 70,000 people that was there. And after a sort of five songs or something, you could feel that we were winning, we were winning over people. You could feel it happening. And that kind of feeling still gives me goosebumps, because, it's why you perform. When you feel that happening, and then once it really turns and happens, and it's like a switch going off, then you're all together. You're like, this energy. Indescribable, really. But that happened that night, and I remember it really well. And I remember when we came off stage, I thought to myself, "Well, we just broke into Belgium. That's it. Now people know who we are."

Q: Was it one of the key moments for you in Belgium or in your career?

Dave: Absolutely. I think in career, too, because it was a huge stage. We was walking on stage, it took guts to go on stage in front of an audience that was skeptical about what you were gonna do.
Belgian newspaper Het Nieuwsblad wrote a retrospective about this concert in 2020, from which the following quotes are taken:
Werchter Festival founder Herman Schueremans said:
"Electronic music kept becoming more and more popular. I just had to book them."
Festival organiser Noèl Steen said:
"Honestly? Depeche Mode wasn't my thing. But Herman had the final say in the organisation. There were a lot of discussions internally. We knew that a part of the visitors would walk away. But Depeche Mode was a big name, at least with people who were hanging around at clubs. So we were certain that there was going to a new kind of crowd. I found out about that in the flesh on the field: there were a lot of nicely dressed people walking around. [...] It was never appreciated whenever we thought outside the box. At the time, people came to the festival just to see one genre: rock. Depeche Mode did not fit into that category. They were seen as a waste of time and money. I really wasn't a fan. It was one of the few concerts of which I didn't take a peek."
Het Nieuwsblad also stated that when DM travelled to Belgium by a Sabena Airlines plane, the plane company's magazine contained an interview with Herman Schueremans, in which Hermman was quoted as having "very big doubts about Depeche Mode's live show", which was read by the band. The band also arrived at the festival with a delay. Live act announcer Guy Mortier joked onstage: "Ladies and gentlemen, Depeche Mode are having a bit of a delay. They're still searching for their cassettes."
In 1987, Schueremans stated in response to critism about the festival having pop bands on the bill: "In hindsight, selections such as Depeche Mode and Talk Talk may have been a mistake."
Setlist
Intro (Master And Servant Voxless)
Sources