1990-03-2x Wherehouse incident footage
From DM Live - the Depeche Mode live encyclopedia for the masses
Jump to navigation
Jump to search
Notes
A compilation of about 20 minutes of raw news and police footage from the 1990-03-20 Wherehouse record store incident exists in Warner Brothers' record library.
DM Live acquired one such copy of the tape, dubbed on March 27, 1990. This videotape has been captured with professional equipment and optimized for best viewing in your web browser.
This VHS had some playback problems, probably due to age and wear over time. For stable playback, the VCR's "Video Stabilizer" feature was enabled, but this disables the built-in line time-base corrector which cleans up the picture and improves image quality, so the video quality is not as good as it could be. However, considering the nature of the footage, the quality difference is not that significant.
Watch
You can watch this entire recording below.
Lineage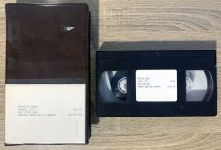 Warner Brothers records library in-house VHS tape -> JVC HR-S7600U (video stabilizer set to ON due to poor condition of VHS; built-in line time-base corrector is disabled as a result), S-Video output -> DataVideo TBC-1000 time base corrector -> S-Video and RCA in to ATI Radeon 9000 PRO All-In-Wonder capture card -> VirtualDub (720x480 HuffYUV lossless capture, 16-bit 48khz LPCM audio) -> AVI container -> WAV demuxed -> in Audacity 2.4.2: normalized to -0.1dB and any DC bias removed -> video and audio muxed, deinterlaced, and encoded as AVC / Opus using ffmpeg
Video specifications: H264 AVC, 640x480 (4:3), 59.94 FPS, 4,193kb/s average video bitrate
Audio specifications: Opus ~160kbps VBR 48khz stereo
Download