1999-02-28 Behind The Music, VH1
From DM Live - the Depeche Mode live encyclopedia for the masses
Jump to navigation
Jump to search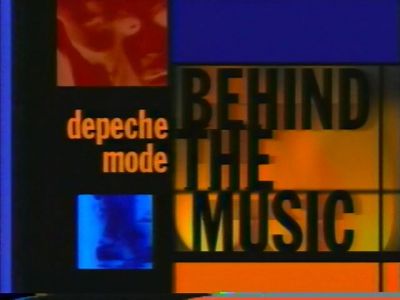 Notes
VH1 USA produced a 45-minute episode of "Behind The Music" which detailed Depeche Mode's 20-year career. The program aired on February 28, 1999. Topics discussed include the band's formation, Vince's departure, Depeche Mode's growth in popularity in the US in the mid-80s, the famous 1988 Rose Bowl concert, the 1990 Wherehouse record store event, the challenging Devotional and Exotic tours, Alan Wilder's departure, Dave's addiction, overdose, and recovery, the challenges recording Ultra, and the Singles tour.
Those interviewed include Dave Gahan, Martin Gore, Andrew Fletcher, Alan Wilder, Daniel Miller of Mute Records, Andy Franks (tour manager), Richard Blade (KROQ radio DJ), Howie Klein (Reprise Records president), Anton Corbijn (video director), Michael Pagnotta (publicist), and Jonathan Kessler (band manager).
This video is sourced from an in-house Reprise Records VHS tape which was created on October 22, 2001. DM Live captured the tape with professional equipment and optimized it for best viewing in your web browser.
Watch
You can watch this entire recording below.
Lineage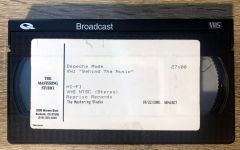 Reprise Records broadcast-grade T120 VHS tape, created on 10/22/2001 by The Mastering Studio -> JVC HR-S7600U (built-in time base corrector enabled), S-Video output -> DataVideo TBC-1000 time base corrector -> S-Video in to ATI Radeon 9000 PRO All-In-Wonder capture card -> VirtualDub (720x480 HuffYUV lossless capture, 16-bit 48khz LPCM audio) -> AVI container -> WAV demuxed -> in Audacity 2.4.2: normalized to -0.1dB and any DC bias removed -> video and audio muxed, deinterlaced, and encoded as AVC / AAC using ffmpeg
Transfer: DMLiveWiki
Video specifications: H264 AVC, 640x480 (4:3), 59.94 FPS, 1,816kb/s average video bitrate
Audio specifications: AAC 192kbps 48khz stereo
Download