2001-06-15 Molson Centre, Montréal, PQ, Canada
From DM Live - the Depeche Mode live encyclopedia for the masses
Jump to navigation
Jump to search
Notes
According to The Montreal Gazette, the attendance was 16,200 with a capacity of 19,200.
Here is the diary entry from depechemode.com:
Today is the Montreal show - looking forward to it. I think we sold about 12,500 tickets, yeah! Our first decent size show thus far. I am so excited and have realized that the crowd makes such a difference.

We also have a photographer from MAGIC here - a magazine in France. He is going to take pictures all throughout the night, before, during and after. The photographer and one other (JC from Virgin) flew in that morning from Paris, are going to hang out for the show, then fly back in the morning. They seem a bit tired - I wonder why!

[...]

So the last two days have been pretty amazing. The Montreal show was fantastic - the guys kept saying afterwards that they could barely hear themselves because the crowd was so loud. Others also said the same thing - the loudest crowd they have ever heard. And when you are in a venue that is completely full, there is just so much energy.

We were also graced with the presence of our two agents - Carole Kinzel (US agent) and Andrew Zweck (European agent). It was great to have both of them there, and to listen to Andrew's jokes! Carole also had fun with us in the bar afterwards, let me tell you! We only got Carole for one day, but Andrew came with us on the plane onto Toronto.

Author: Brat
Poe was the support act.
Video
Set list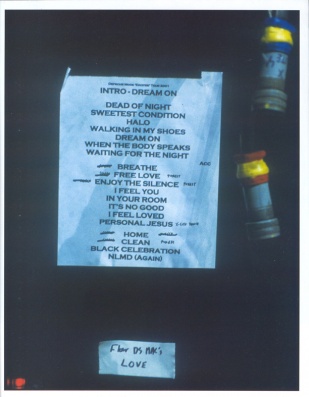 Sources
Ticket