In Your Room
From DM Live - the Depeche Mode live encyclopedia for the masses
Jump to navigation
Jump to search
In Your Room

Song
In Your Room
By
Depeche Mode
Songwriter
Martin L. Gore
Produced by
Depeche Mode
Flood
Recorded at
Madrid, Spain
Chateau du Pape, Hamburg, Germany
Length (mm:ss)
6:26 (album version)
4:52 (single version/Zephyr Mix)
Tempo
98 BPM
Time signature
4
4
Key
D♭ Minor
Engineered by
Steve Lyon
Paul Kendall
Chris Dickie
Mixed by
Mark 'Spike' Stent
Mastered by
Kevin Metcalfe
Design
Anton Corbijn
Area
Recorded
February 1992 – January 1993
Originally released
10 January 1994
Live performances as Depeche Mode
677 times

*

Total live performances
685 times

*
"In Your Room" is a song from the 1993 album Songs Of Faith And Devotion by Depeche Mode. It was released as a single on 10 January 1994.
Notes
Musician magazine interviewed DM about the recording process of Songs Of Faith And Devotion, and they reported: "'In Your Room' went through three incarnations – an austere ballad, a kind of soul groove and a rock anthem – before the band decided to use a little of each in the finished version."
Alan Wilder said in the May 1993 issue of Keyboard magazine:
"That song was quite difficult. We recorded the song three or four different ways. One was entirely as you hear it in the second verse, with the smaller drum kit and the "groovy" bass line. But the whole song with that rhythm wasn't strong enough; it didn't go anywhere. We had the song structure from a fairly early stage. We knew where we wanted the verses, choruses, and middle eights. So [...] I went in and played drums along with the track in one particular style, then did it again in a funkier style, and so on. [...] [The cymbals after the word "flames"] was a late addition. Since that's such an up part of the song, it felt necessary to add something at that point. We put it in at the mix. It's often not until you get to the mix stage that it becomes obvious that another part is required. When you're in the recording process, you've never got it sounding good enough to tell. So quite a few of those embellishments get put on at the mix stage, like backwards cymbals."
Martin Gore in Rolling Stone issue #672/3 (December 1993):
"I think 'In Your Room' could be potentially bigger [as a hit single than 'I Feel You'], but it's six and a half minutes long. It could be edited down, but I think part of its beauty is its length. It'll be difficult to work with it."
When Rolling Stone followed DM on tour in July 1993, they reported: "Gahan feels that his buddies art gradually coming around to his new-found [Los Angeles] philosophy, aside from occasional screw-ups like rejecting Butch Vig's well-crafted 'In Your Room' single remix."
However, Depeche Mode ended up not rejecting Butch Vig's mix, which was explained in an interview with Andy Fletcher for Drum Media in February 1994:
"Consider the issue of Gahan suggesting that Butch Vig (producer of Nirvana's Nevermind and Smashing Pumpkins' Siamese Dream) remix the third single from Songs, In Your Room. Vig brought his own guitarist to add a new track – at first crackling then bursting into sonic overdrive – to the emotive ballad, upping the drums and giving it an alt-rock treatment that's surprisingly controlled amidst classic Gore melodrama like Your favourite mirror, your favourite slave... "It's an interesting mix, completely different to what we would have done, though we prefer our own original mix," notes Fletcher, despite initial rumours that the mix at one stage was to be consigned to the vault never to be released. For Fletcher, it's a matter of their roots: "We still like to consider ourselves European sounding and away from that American grunge sound, we're not jumping on that bandwagon in any way."
Alan Wilder wrote in his Singles 86-98 editorial:
"Convinced of the song's potential as a single, [Alan] campaigned rigorously on behalf of the album version to the point where various different edits were tried, but was eventually out-voted in favour of a remix by Nirvana producer and current 'grunge' dahling of the press, Butch Vig. Unfortunately, as is often the case with outside remixers, Vig's interpretation did not relate to many of the aspects of the original and the track lost much of it's Depeche Mode character, falling short of it's intended sensuality and intensity."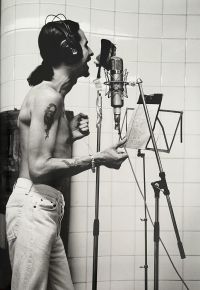 Martin Gore recalls the filming of the music video:
"The worst memory about In Your Room is the making of the video. We spent a whole day in the studio filming and I probably had lunch at some point, but it was just something really small, like half a sandwich. We finished filming at about 8 o'clock, and went back to the hotel and I forgot to eat. We went to the bar and I didn't eat ... We went out to a club,[1] met some guy who gave me some stuff, so I was up all night until probably 9 or 10 in the morning. We had a band meeting at 12 o'clock and I managed to sleep for about an hour. Then I got up and I've never felt so dreadful in my life. I managed to literally crawl to this meeting, I had to lay on the floor just saying 'Yes' or 'No', that was all I could muster.[2] And that was when I went into a seizure. So whenever I see this video, I just think, 'Oh, God' ... It brings back terrible memories."[1]
Dave Gahan said in the EPK for Exciter in 2001:
"[...] Often, with a lot of those sort of songs [bring out all these sad emotions and lost time], like 'In Your Room', that's kind of how it felt, you know, during those darker times for me, if you like. I was in my own little room. I felt very protected in my own little room for a while and I was invincible and I could come out when I wanted and go back in when I wanted and the room was a safe place, but now that room scares me and I don't really want to go in there any more. So, when I was singing that song on the last tour [Singles 86-98 tour], it was almost like I could sing it from outside the room, but go there for a little bit and look at it and peer in. It was a lot more fun than singing it like it was the last time I was going to sing it every night. For instance, on 'Songs of Faith and Devotion', on that tour, I really got off on the whole kind of darkness of that period of my life and it got really boring."
Dave Gahan told Stirile Pro in 2016:
"[...] 'In Your Room', I think it's one of my favourites, actually, to perform."
Live versions
This section provides an example of a live version of In Your Room from each tour that it was played.
Lyrics
In Your Room
In your room
Where time stands still
Or moves at your will
Will you let the morning come soon
Or will you leave me lying here
In your favourite darkness
Your favourite half-light
Your favourite consciousness
Your favourite slave

In your room
Where souls disappear
Only you exist here
Will you lead me to your armchair
Or leave me lying here
Your favourite innocence
Your favourite prize
Your favourite smile
Your favourite slave

I'm hanging on your words
Living on your breath
Feeling with your skin
Will I always be here

In your room
Your burning eyes
Cause flames to arise
Will you let the fire die down soon
Or will I always be here
Your favourite passion
Your favourite game
Your favourite mirror
Your favourite slave

I'm hanging on your words
Living on your breath
Feeling with your skin
Will I always be here

Will I always be here
Songwriter: Martin L. Gore
Publishing Information: ©1992 Grabbing Hands Music Overseas/EMI Music Publishing Ltd. All rights reserved.
Music video
Live performances
Main article: Available recordings of "In Your Room"
Main article: List of dates where "In Your Room" was played
References
↑ 1.0 1.1

Source: The Singles 86-98 by Martin Gore, Bong 37, September 1998. Compiled by Michaela Olexova

↑

Source: Just Can't Get Enough, Uncut, May 2001. Words: Stephen Dalton