2001-08-07 The Tonight Show with Jay Leno, NBC, NBC Studios, Burbank, CA, USA
From DM Live - the Depeche Mode live encyclopedia for the masses
Jump to navigation
Jump to search
Notes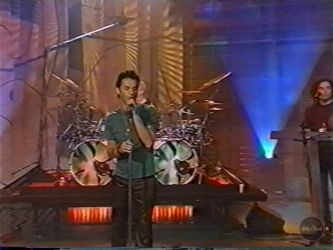 Depeche Mode performed I Feel Loved on The Tonight Show with Jay Leno on August 7, 2001. This video contains three minutes of stage set up, the first rehearsal take, about 12 minutes of the band waiting around, the second rehearsal take, and finally the broadcast version, including Jay Leno's introduction of the band and a brief segment at the end of the show. Following the conclusion of the show, the tape contains a short video of a photo session with Jay Leno, the band, and the other guest stars.
The video quality is excellent as it is sourced from a VHS labelled as a dub off NBC's copy, so presumably it is a first-generation tape. However, the audio is mediocre quality, with high-pitched ringing and other nasty noise throughout. This has been cleaned up with decent results, but some of the noise is still present to avoid damaging the audio too much. For the portions of the video between rehearsal takes, the audio is silenced as all that was audible was the nasty tape noise.
This videotape has been captured with professional equipment and optimized for best viewing in your web browser.
Watch
You can watch this entire recording below. Note that the first three minutes are silent, as described in the Notes section above, and then there are 12 minutes of silence between the rehearsal takes.
Lineage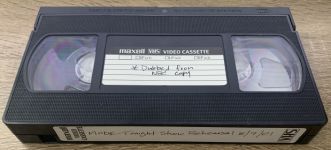 Maxell T120 VHS tape (first-generation copy from NBC copy) -> JVC HR-S7600U (built-in time base corrector enabled), S-Video output -> DataVideo TBC-1000 time base corrector -> S-Video and RCA in to ATI Radeon 9000 PRO All-In-Wonder capture card -> VirtualDub (720x480 HuffYUV lossless capture, 16-bit 48khz LPCM audio) -> AVI container -> WAV demuxed -> in Audacity 2.4.2: normalized to -0.1dB and any DC bias removed, audio clean-up (noise reduction, several spectral edit multi-tool runs, low-pass filter at 7khz) -> video and audio muxed, deinterlaced, and encoded as AVC / AAC using ffmpeg and Apple AAC encoder
Video specifications: H264 AVC, 640x480 (4:3), 59.94 FPS, 4,380kb/s average video bitrate
Audio specifications: AAC ~192kbps VBR 48khz stereo
Download