2013-07-07 Rock Werchter Festival, Werchter, Belgium
From DM Live - the Depeche Mode live encyclopedia for the masses
Jump to navigation
Jump to search
| | |
| --- | --- |
| | This concert page is missing a ticket stub. If you possess a ticket stub from this concert and wish to contribute a high quality scan or photograph, please feel free to add your ticket stub as an image file and embed it within this article, or contact us. |
Notes
Depeche Mode's first webcast festival gig of the 2013 - 2014 Delta Machine Tour: The stream was extremely unstable for anybody outside of Belgium (which had access to a stable high-definition stream), and nobody was able to get a flawless capture. To date, no capture of the Belgian HD stream is circulating. Only audio is circulating from this webstream.
You can watch the webstream video on Vimeo here. I am trying to contact the uploader for their original source.
At the very end, Fletch took off his shirt and bowed. Dave did not see it immediately but when he did, ran after Fletch to pat him on his belly and then he said in the mic, "He's lost it completely".
Martin Gore said in October 2013:
"We played [a festival] in Werchter, in Belgium where, I don't know if we just happened to play on the last night and everyone had been there for three or four days and everyone was a zombie, but it really felt like... [it was dead]. It was 80.000 people, but, I don't know, they just didn't seem to react like normal crowds do." *
(*) Angelinda would like to add that it was indeed the last day of the festival, and it was very, very hot that day.
Video
Set list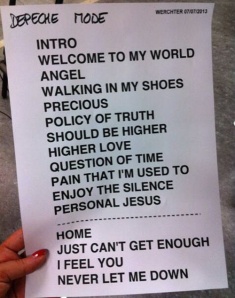 Set list info obtained from the Home forum.
Sources
Source 1 is the webstream's soundboard audio, completed and remastered by biashead.