2013-11-15 Phones 4u Arena, Manchester, England, UK: Difference between revisions
From DM Live - the Depeche Mode live encyclopedia for the masses
Jump to navigation
Jump to search
 

Line 1:
Line 1:

== Notes ==

== Notes ==






Anton Corbijn was in attendance and took photos, which appeared in the booklet for [https://en.wikipedia.org/wiki/Depeche_Mode_Live_in_Berlin Live In Berlin] (which you can download [http://www.another-dimension.net/downloadsites/depechemode.php here]).

Anton Corbijn was in attendance and took photos, which appeared in the booklet for [https://en.wikipedia.org/wiki/Depeche_Mode_Live_in_Berlin Live In Berlin] (which you can download [http://www.another-dimension.net/downloadsites/depechemode.php here]).






The Jezabels were the support act.

The Jezabels were the support act.






{{Template:DeMa3|The Child Inside|But Not Tonight|Condemnation|S-2013-11-15|blackarmy}}

{{Template:DeMa3|The Child Inside|But Not Tonight|Condemnation|S-2013-11-15|blackarmy}}
---
Latest revision as of 19:31, 2 August 2017
Notes
Anton Corbijn was in attendance and took photos, which appeared in the booklet for Live In Berlin (which you can download here). According to Billboard, the attendance was 11,816 people and the gross sale was $827,673.
The Jezabels were the support act.
Set list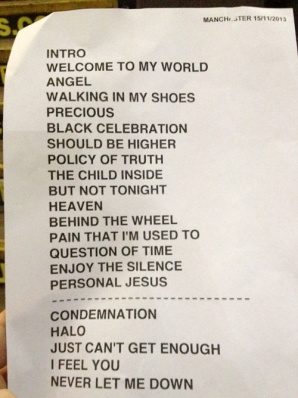 Intro
The Child Inside (*)
But Not Tonight (*)
Condemnation (*)
Set list info obtained from the Home forum.