Let's Get Together
From DM Live - the Depeche Mode live encyclopedia for the masses
Jump to navigation
Jump to search
Notes
Let's Get Together is a demo track written by Vince Clarke. It appears as the first track of a demo tape from January 1982 by Vince Clarke and Alison Moyet labelled "Vince + Alison (Demo's)". Vince is singing lead vocals. Depeche Mode rehearsed this track, as can be heard in the ITV television program 20th Century Box filmed in late June 1981 (see here on YouTube), but the song was never performed live and a full recording of the rehearsal performance from that video is not available. The group Girl Authority covered the song as a single in 2007; watch on YouTube. Vince's demo is available to listen to below; transcribed lyrics are also available below.
From Basildon: New Town - New Life: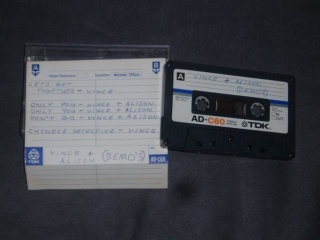 The First Yazoo Demo Tape - January 1982

This cassette is a demo tape from very early January 1982. It's titled 'Vince & Alison (Demo's)' because the duo didn't yet have a name. The cassette contains 5 tracks, 3 by Yazoo and 2 Vince Clarke solo. There has been much conjecture about where Vince Clarke's Depeche Mode songwritting ended and Yazoo's began. As historians of Depeche Mode / Vince Clarke will be aware there was in fact an overlap. The Speak & Spell tour ended on Monday November 16 1981 at the London Lyceum and Vince Clarke performed for the final time with Depeche Mode on Thursday 3 December for a television show in Chichester. All the songs on this tape were written in 1981 during Vinces time with Depeche Mode, apart from 'Lets get together' which was written even earlier. To my best estimation and inside information the tracks on this cassette were recorded between mid-November 1981 and the new year of 1982 and were programmed by Vince on his recently acquired 'Roland MC-4' microcomposer.

Track 1) Lets get together - Vince Clarke (vocals & synths) - solo demo (3.05)

Vince wrote the song long before Depeche Mode and is essentially an ovation of Christianity. The ITV '20th Century Box' documentary on Depeche Mode filmed in late June 1981 features a clip of the band rehearsing 'Lets get together' although they never played it live and there are no recordings of the track. There are a number of 2nd/3rd generation audio copies of Vince's demo on Utube with various homemade still picture videos. One claims it to be by 'Composition of Sound' while another claims it as a Depeche Mode demo. One even asserts that Dave Gahan is singing backing vocals!

The song actually came to wider public prominence when US manufactured band 'Girl Authority' released a cover version a couple of years ago. Rather than Vince's very methodical electronic 1981 treatment, Girl Authority's version is quite sickly sweet with an equally nauseating video.

At the time I was told that the purpose of this recording of 'Lets get together' was that Vince's music publishers 'Sonet' would basically hawk the song around for other artists to record and the possibility of offering it as a possible eurovision contender was specifically mentioned at the time.
Further information regarding the remainder of the tracks on the demo tape are available at the Facebook post.
Listen
This track is presumably sourced from the demo tape pictured and referred to above, but it is MP3 encoded without any lineage information.
Lyrics
Let's Get Together[1]
Come on everybody, won't you gather around and
Listen what I am trying to say
Let's all get together, come and hold my hand now
Listen, new beginning starts today

Let's get together, aaah
Let's get right now, yeah
Don't want to cry no more
Like we did before
Baby we can make it somehow

People of the world are gonna learn the language
Singing to a special song
You can learn it too, just got to give some love and
Listen baby won't take long

Let's get together, aaah
Let's get right now, yeah
Don't want to cry no more
Like we did before
Baby we can make it somehow

Everyone together gonna stop your crying
Sunshine gonna brighten today
(Sunshine gonna brighten today)
Joining with the motion to a different dance now
Listen to me what I say

Let's get together, aaah
Let's get right now, yeah
Don't want to cry no more
Like we did before
Baby we can make it somehow
Songwriter: Vince Clarke
Publishing Information: No publishing information available.
↑

Thanks to Ifyazel Lima Hernández for transcribing the lyrics.