Soundcheck Compilation
From DM Live - the Depeche Mode live encyclopedia for the masses
Jump to navigation
Jump to search
Notes
A compilation of soundchecks ranging between 1983 and 1986, chronologically ordered from oldest to newest. These soundchecks are interesting to listen to as some tracks are pure backing tape, and others are more complete soundchecks with vocals and keyboards.
This audio was previously made available in early 2014. For that fileset, the cassette was transferred using an inferior cassette deck. This is a fresh retransfer for improved sound quality and with speed correction applied.
Quality varies, with some tracks being excellent quality (tracks 1, 7, and 8), with others having more distortion and hiss. There are occasional clicks and pops throughout the recording, but these are present on the tape itself (and are also present on the prior transfer of this cassette) and do not indicate an issue with the cassette deck used for digitization. Speed has been adjusted to be approximately correct.
Dates for soundchecks have been taken from the tape's inlay. 1984-11-03 London is the only one in question since there are no audience recordings from the 4-night stay in London, and 1984-11-02 is the only date with professional recordings available; as such, the track has been dated "1984-11-0x" as there is no way to confirm from which night the soundcheck is from.
Tracks 15 and 16 are not sourced from this cassette, but are additional tracks from other sources. Track 15 is notable because I Want You Now was not performed until the 1990 "World Violation" Tour, backed only by acoustic guitar, whereas this soundcheck version has bits of synth through it, particularly at the end. Track 16 sounds pretty bad - heavy noise reduction (not done by me) and with heavy clicks throughout which were somewhat reduced using Audition's click remover.
The tape inlay lists a soundcheck from 1988-02-12 Stockholm, but it is not present on this tape. Nonetheless, a recording of that soundcheck is available on the wiki here: 1988-02-12 Johanneshov Isstadion, Stockholm, Sweden/Source 2
The tape's label also lists "demos, etc", but the remaining space on the tape is taken up by non-Depeche Mode songs: "Journey On The Nile" and "I'm Gonna Cry" by Tunnelvision (which are sometimes misattributed on bootlegs as fake Dave Gahan demos circa 1992 by the titles "Dirty Alright Now" and "Take A Look At Me Now", respectively), "Tomorrow In The Papers" by The Neon Judgement, and "Still Smiling" by I Start Counting.
Other Depeche Mode soundchecks on the wiki can be found here: Category:Soundchecks
Listen
You can listen to this entire recording below.
Track list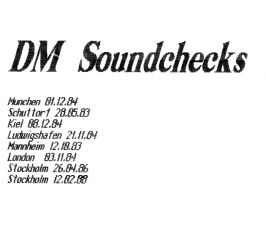 Lineage

Lineage (tracks 1-14): unknown generation Maxell UR90 cassette tape, 1986 - 1987 stock -> Nakamichi MR-1 professional discrete head cassette deck (playback azimuth optimized) -> Mogami 2534 XLR to TRS cables -> Focusrite Scarlett 2i2 3rd gen USB audio interface -> WAV (32/88.2) -> recorded in Audacity 3.2.1 using WASAPI input; speed correction, normalization, track splits -> WAV (32/88.2) -> downsampled to FLAC level 8 (16/44) using foobar2000 v1.6.14, FLAC 1.4.2 64-bit, and foobar2000's Resampler (RetroArch) component at "Highest" quality, dithering enabled
Lineage (tracks 15-16): unknown, bootleg sourced / floating around on the internet.
Transfer: DMLiveWiki on November 26, 2022
Cassette tape photo, tape inlay scan, and auCDtectTaskManager log included
Download