1993-07-31 Crystal Palace Sports Ground, London, England, UK
From DM Live - the Depeche Mode live encyclopedia for the masses
Jump to navigation
Jump to search
Notes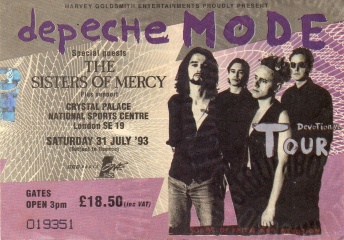 Fourteen out of nineteen songs were broadcast on BBC Radio 1, originally on 1993-08-30.[1][2] There were two different broadcasts of the concert, one of which included Walking In My Shoes which was not part of the other broadcast. Steve Lyon confirmed that he mixed the audio for the FM broadcast in Dublin, at the same time he mixed the audio for the "Devotional" video release.[3]
According to BONG magazine issue #22, 36.131 people were at this show. You can watch a special video about this concert on the official site archives here. You can read some concert reports from the July 28 - August 4, 1993 issue of "Time Out" magazine here.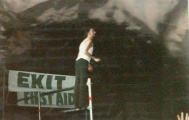 Dave said something like "We bought the full moon commissioned especially for you vampires tonight. Only joking, cost too much [laughs]" upon seeing the full moon; he also said "I'll need a little help with this one (Stripped). You should know the words by now", but then when nobody sang along he said "Oh, come on"; then during I Feel You he said "Now I can hear you! ... just takes a while sometimes, you know!" [4] Furthermore, Dave also said "At least its not fucking raining" after World In My Eyes as well as "Let's hear you make some fucking noise" at the beginning of Never Let Me Down Again. Dave also climbed on the front barrier during Enjoy The Silence.[5] This was the third time that One Caress (with string quartet) was played on this tour.
Sunscreem, Dreadzone, Dub Syndicate, Marxmen and Sisters Of Mercy were the support acts. The Sisters Of Mercy famously said to the crowd "Enjoy the puppet show" at the end of their set, supposedly a dig at Depeche Mode. Find all info and material on the Sisters Of Mercy's performance on their fan Wiki.
Here is Daryl Bamonte's entry for the famous Devotional Tour Diary, published in Bong magazine in 1994:
Crystal Palace. Finally home after 3 months. 36,000+ people at this show, 1,000 with passes, and I know all of them, so backstage was chaos. My son had a good day. He definitely preferred DUB SYNDICATE to THE SISTERS OF MERCY. I used to think that ANDREW ELDRITCH was really cool. A god-like quasi-Darth Vader figure. He's actually like RIGSBY.
Overdubs
It appears that Dave's vocals for the prepared FM broadcast of this concert are overdubs from the concert filmed two nights prior at 1993-07-29 Stade Couvert Régional, Liévin, France, with some gaps filled with vocals presumed to be from Crystal Palace. Examples of such fills which presumably use Crystal Palace audio would be the vast majority of Dave's banter and shouts during and between songs, some sections from Liévin where Dave did not sing the chorus (for instance, the first chorus of Stripped where the "proper" chorus vocal is fairly obviously different sounding), and the ending of Everything Counts with the memorable audience singalong, to give the impression of a different concert. This can be further confirmed by comparing against the two available audience recordings below, though the comparison may be challenging because both audience recordings play too fast. Whether the music and backing vocals in general were also reused from Liévin is yet to be determined.
Comparisons of audio of several songs between Crystal Palace and Liévin can be heard below.
Condemnation

Crystal Palace plays first, then Liévin; then both are played together in mono, and then separately in stereo, with Crystal Palace on the left and Liévin on the right. This particular sample is approximately volume-matched.
The below samples are not as thoroughly created as the sample for Condemnation. They exhibit the Crystal Palace FM broadcast in the left channel, and soundboard audio from Liévin in the right channel simultaneously. Note that time synchronization may not be completely perfect, so the audio may "drift" apart slightly as the excerpt goes on.
Walking In My Shoes (first verse)
Walking In My Shoes (second verse)
Condemnation (first and second verses)
Judas

Thanks to InterestedPie on Home for creating this sample.
It is evident that Dave's vocals from Liévin were used to prepare the FM broadcast recording.
Set list
Intro
Judas (*)
One Caress (*)
Sources
Source 1 is a very good sounding FM broadcast recording and is the most complete version available to date.
Source 2 is Cyberbio's good audience recording, though it would benefit from a better transfer.
Source 3 is Phong Ng's decent audience recording sourced from a first-generation tape; it plays a bit fast and is somewhat muffled.
Ticket scan
References