1980-10-16 Bridge House, London, England, UK
From DM Live - the Depeche Mode live encyclopedia for the masses
Jump to navigation
Jump to search
Notes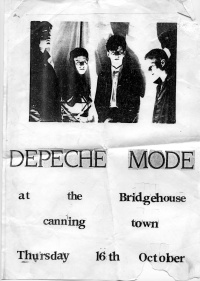 The second Bridge House gig. Their payment got upgraded from £15 to £20.[1]
A poster for this concert was once uploaded by Daryl Bamonte, and then shared on Facebook page 'Depeche Mode Information Service - 1981', where Dave Gahan's brother Phil stated that it was Dave Gahan himself who made this poster. The photo in the poster is the first photo of the band. It was taken by Martin's and Vince's friend Mark Crick. He says in Simon Spence's 2011 DM biography that it was taken in the Trinity Methodist Church in Basildon.
Zeitgeist was the support act.
References