1982-12-14 Muziekcentrum Vredenburg, Utrecht, The Netherlands/Source 4
From DM Live - the Depeche Mode live encyclopedia for the masses
Jump to navigation
Jump to search
Notes
Very good FM broadcast stereo audio. This source is higher-fidelity and more consistent sounding than the prior available audio of this FM broadcast. About 10 seconds from the beginning of My Secret Garden are missing on this source compared to the unknown generation cassette source, but this fileset was purposely left unedited. The most-complete "rework" of the available audio from this concert is available at Source 1.
The transition between My Secret Garden and Leave In Silence has a lousy edit and Dave's introduction of "See You" can be heard in the background. Additionally, the final chorus of Boys Say Go! has somebody talking over it. This is edited out in the rework utilizing audio using mono audio from a VHS master recording of the "Countdown" television appearance.
This FM master stereo audio is sourced from an LP mode DAT clone, which is recorded at 32khz. The DAT was captured at the native 32khz to avoid unnecessary resampling, and remains as a 32khz fileset for this source. However, this is sufficient for an FM broadcast recording and particularly for this audio as it does not extend much past 13khz anyway. This new source of the FM broadcast is very consistent and balanced sounding and is superior quality to the previously available unknown generation cassette recording.
A VHS master recording of 5 songs plus an interview from the "Countdown" program is available courtesy of TravisBickle1963. The video from the VHS is available as Source 2, and its audio alone as Source 3, respectively.
Many thanks to "subwave collection CH" for acquiring this DAT long ago and to Vince for his assistance with securing the tape.
Listen
You can listen to this entire recording below.
Track list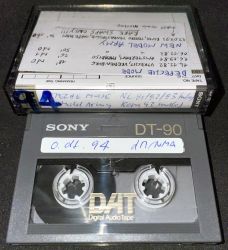 Lineage
FM radio broadcast -> unknown taper and equipment -> master analog source (probably a cassette) -> unknown playback and recording decks -> clone in LP mode to Sony DT-90 DAT -> Sony SDT-9000 SCSI tape drive -> WaveDAT software -> WAV 16/32 -> in Audacity 3.3.3: sped up 3.5%, phase corrected, normalized to -0.1dB and any DC offset removed -> WAV (16/32) -> FLAC level 8 (16/44) using foobar2000 v2.0, FLAC 1.4.2 64-bit
Generation: master
Transfer: DMLiveWiki on May 27, 2023
DAT photo, inlay scan, and auCDtectTaskManager log included
Download