1984-12-11 Sporthalle, Böblingen, Germany/Source 1
From DM Live - the Depeche Mode live encyclopedia for the masses
Jump to navigation
Jump to search
Notes
A decent audience recording. Most of the A-side is rather muffled, perhaps the taper needed to conceal his microphones. There's a fair amount of hiss as well, but regardless it is still a listenable recording. Most of the B-side clears up significantly and the recording is good quality. This tape is much better quality than the previously circulating lossless version, which was quite hissy, muffled, boomy, and distorted with little dynamic range.
At the end of See You, somebody dropped tear gas, causing the concert to end after that song. Dave sounds very angry at end of See You - to me it sounds like he says "well now that's pretty rude - I still seen nothing like that in all my life man - well that's pretty rude - you see the bomb man? well you better get outta here!". "See You" has a lot of wow & flutter; the recorder's batteries were probably dying, causing tape speed to fluctuate.
There is a small cut at the beginning of Lie To Me. Obviously, "Shout" and "Just Can't Get Enough" were not played due to the tear gas at the end of "See You". Otherwise, I believe this is a complete recording.
Many thanks to darkdevoted for obtaining the tape and performing the transfer.
Listen
You can listen to this entire recording below.
Track list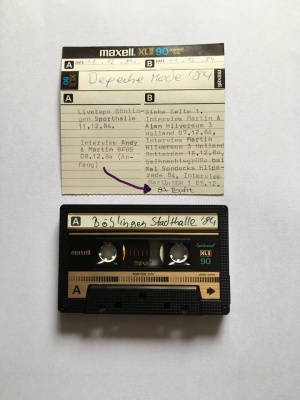 Lineage
low generation Maxell XLII 90 high position cassette, 1982 - 1984 Europe stock -> Technics RS-AZ7 cassette deck -> Yamaha RX-V1300RDS receiver -> Roland R-05 (24/48) -> WAV (24/48) -> in Adobe Audition CC 2015: sides joined seamlessly, automatic click remover (heavy reduction), slowed down 2.0%, hard limited mic bumps, normalized to -0.1dB and any DC bias removed -> WAV (24/48) -> tracked using Audacity 2.1.2 -> WAV (24/48) tracks -> FLAC 16-bit 44.1khz using FLAC 1.3.1 64-bit (level 8 compression) and foobar2000 v1.3.10 with its Resampler (SoX) component v0.8.3 (best quality), dithering enabled
Transfer: darkdevoted
Cassette photo and auCDtectTaskManager log included
Download