1990-09-01 Festival Hall, Melbourne, Australia
From DM Live - the Depeche Mode live encyclopedia for the masses
Jump to navigation
Jump to search
Notes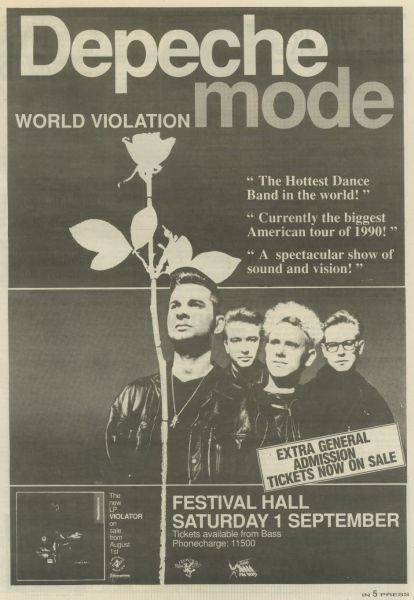 This show was cancelled because Dave strained his voice the day before in Sydney.
JD Fanger said later in 1990 in BONG magazine:
"We were very upset at having to cancel the show in Melbourne. In spite of some lengthy rehearsals, Dave strained his voice badly during the show in Sydney, but managed to finish the show. (Sydney was the first of only two shows in Australia, and the first show of the Australian / Japanese leg of the tour, after a three week break). A doctor was arranged to be at the Melbourne venue the next day, before soundcheck, who examined Dave's larynx, and told him he could not sing for at least two days. This meant that we couldn't even consider re-scheduling, because of our Japanese dates."
Martin Gore told Australian magazine In Press in March 1994:
"It was frustrating to have travelled all that way (to Australia) for two shows and only be able to do one. It won't happen a second time. Everywhere else we have consolidated our following by touring with each album, that is something few of our 80's contemporaries did, and it's probably why we have survived. Australia is where we are least successful and it's the only country we haven't toured."