1991-07-20 Wheathampstead, Hertfordshire, England
From DM Live - the Depeche Mode live encyclopedia for the masses
Jump to navigation
Jump to search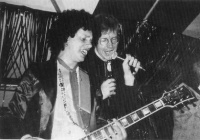 Notes
BONG magazine issue fifteen reported:
As you no doubt know, both Martin and Fletch celebrated their 30th birthdays in July. A party was held in a Marquee in Martin's garden. The highlight of the party was a musical set by "The Sexist Boys" - a '70's glam rock band, composing Martin Gore and Wayne Hussey[1] from The Mission, Robert Marlow, Roy White and Dave from King of Fools, and ex Lloyd Cole & The Commotions, Stephen Irvine. "The Sexist Boys" repertoire includes "Hello Hello - I'm Back Again" (Gary Glitter), "Dancing Queen" (Abba), and "20th Century Boy" (T-Rex) among other gems from the glitter-age of the '70's. There were plenty of guest appearances from the audience - notably Andy Fletcher - and the proverbial good time was had by all.
A Facebook user claims to have a VHS recording of this performance, but so far no trace of this has appeared online.
Set list
Please note that this is a tentative set list compiled from second-hand information and the track order may not be accurate.
Hello! Hello! I'm Back Again (Gary Glitter cover)
Dancing Queen (ABBA cover)
20th Century Boy (T-Rex cover)
References
↑ Wayne told Steve Malins that Martin Gore and Wayne Hussey met when Wayne's band The Mission and DM both performed at the San Remo festival in February 1990, as a glam rock tribute band called The Metal Gurus. Martin loves glam rock so a year later he asked Hussey to play glam rock songs at his birthday party. Hussey got him a signed photo by Gary Glitter for his birthday. In 2002, The Mission released a single called "Shine Like The Stars", of which the B-side was a cover of "Never Let Me Down Again". And in 2016, Wayne Hussey asked Martin to sing backing vocals on a song called "Only You And You Alone" from The Mission's album "Another Fall from Grace".