2001-03-24 CD:UK, ITV, The London Studios, London, England, UK/Source 2
From DM Live - the Depeche Mode live encyclopedia for the masses
Jump to navigation
Jump to search
Notes
Good quality video, and unfortunately flawed audio resulting from a dodgy tape copy. There's some sort of strange phasing effect going on and the sound kind of "jumps" between channels. There are also some small audio dropouts, but they are very infrequent. The video is good enough quality, but obviously a transfer from an original Mute VHS would yield superior picture and audio quality.
This tape contains what seems to be two takes each of Dream On and I Feel Loved, and then there are four different camera angles of each afterwards. These are clearly playback performances, but with live vocals.
I almost won an original Mute VHS on eBay, but was outbid and lost by $0.50 because I'm an idiot and didn't set a slightly higher maximum bid. If you own an original Mute VHS, please consider lending it to me so I can provide a superb transfer. I'll be happy to cover the cost of shipping both ways!
An audience audio recording of this TV taping session is available as Source 1.
Watch
You can watch this entire recording below.
Track list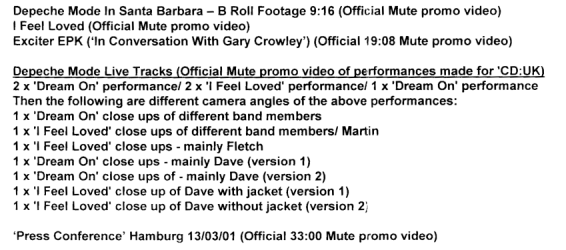 Lineage
original Mute in-house VHS -> first generation Fuji "Super VHS Pro" SVHS tape -> Philips VR 1000 SVHS PAL VCR (high-end JVC rebadge), built-in line time base corrector enabled -> S-Video -> DataVideo TBC-1000 frame time base corrector -> S-Video -> ATI Radeon 9600XT All-In-Wonder capture card -> VirtualDub (720x576 HuffYUV lossless capture, 16-bit 48khz LPCM audio capture via stereo RCA cable connected directly to computer's Creative SoundBlaster X-Fi sound card line in) -> AVI container -> noisy overscan edges masked from the bottom of the video using VirtualDub 1.10.4 64-bit -> AVI container -> video and audio demuxed -> in Audacity 2.1.3: audio normalized to -0.1dB and any DC bias removed, exported to FLAC 16/48; in Handbrake v1.0.7, video encoded to H.264, "Super HQ" profile -> encoded video and normalized audio remuxed to MKV container, chapters added
Transfer: DMLiveWiki
Generation: first
VHS photos and typed info sheet included
Video specifications: H.264 High Profile, 720x560 (display resolution), 7,173 kb/s, 25FPS
Audio specifications: FLAC 926 kb/s 16-bit 48kHz
Download