2006-04-02 Wembley Arena, London, England, UK
From DM Live - the Depeche Mode live encyclopedia for the masses
Jump to navigation
Jump to search
Notes
The Bravery was the support act.
After Leave In Silence, Dave and Martin exchange the following words:
Dave: Beautiful, Martin.

Martin: Thank you, David.

Dave: ...as always.

Martin: We are getting gayer every day.

[Everyone laughs]

Dave: You have a problem with that?
This show was recorded by Live Here Now as a test-run for the (then) upcoming series of live releases; the recording was mixed but never released.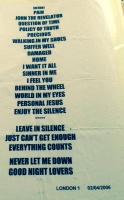 Set list
Intro
Damaged People (*)
Home (*)
Leave In Silence (*)
Sources
Source 1 is motr1912's very good audience recording.
Source 2 is skyscaper's good audience recording.