2017-04-28 Backstage Mit Depeche Mode, Amazon Music Unlimited, Germany
From DM Live - the Depeche Mode live encyclopedia for the masses
Jump to navigation
Jump to search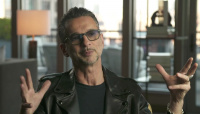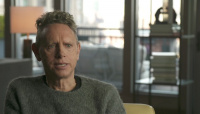 Notes
Amazon Music Germany has interviewed Dave Gahan and Martin Gore to ask them about the writing process of most songs off 'Spirit'. It was recorded at The Edition Hotel in New York City on March 8th 2017. This interview was made available on Amazon Music Unlimited, a streaming service for German subscribers of that streaming service. German fan "Kim Mie" has started a free trial on Amazon Music Unlimited for this purpose. Since the interview could not be downloaded, a PC's stereo mix output had to be recorded while playing the interview. That recording has been re-uploaded below as a 192 kbps MP3 file. The interview is dubbed in German, but Angelinda has tried to transcribe (see below) Martin and Dave's responses while ignoring the German dub as much as possible. Update: in October 2017, Depeche Mode uploaded the fragment of the duo talking about 'Cover Me' as part of a 'Behind The Scenes' clip on YouTube.
Audio
Transcript
Dave Gahan: Hi, this is Dave Gahan of Depeche Mode. Welcome to Backstage on Amazon. Listen to our playlist on Backstage. Hope you enjoy.
Martin Gore: The only real guiding point that I had was to make the album a little bit more a social commentary than our previous albums. Maybe we had one in like, 1983, with 'Construction Time Again' which was a little bit of a social commentary, but we haven't done that for a while. And I felt that it was needed at this time. I like to claim that I was a prophet and that I knew that we'd be in this mess, but obviously the songs were written towards the end of 2015, 2016, and even though the world is in a complete mess today, it wasn't that good. Some of the writing was on the wall, and there were a lot of other things happening: pre-Brexit, pre-Trump, the whole build-up to this Trump thing that was happening, and we had the Syrian crisis going on for - I think it's in its seventh year now. Endless heinous things: the Russians going into the Ukraine, taking Crimea, endless police violence against blacks in America. There was plenty of things going on.
Going Backwards
Martin Gore: An album starts taking shape, for me, really, when you have about four songs together, and we had gone down a cynical path. And I thought, "Okay well, maybe I just gotta go with this." Well as I said, it was definitely one of the first songs that I had written, and I think it was actually one of the first songs that we had started working on in the studio. And I think that from an early point we all deep down knew that it would be the first track on the album, so it was an important track. Even though we never regarded it as a single or anything like that, it was more of a statement.
Where's The Revolution
Dave Gahan: It always felt like, right from when I heard the demo of 'Where's The Revolution', it seemed like the obvious single. It's kind of got this hook. But what was interesting to me about it was the lyrical content. I liked the way the songs kind of points the finger at everybody else and asking the question 'Where is it?' And it also slides into the title of the album, 'Spirit'. To me, that revolution comes from within. I don't know if Martin wrote the song with that in mind, but I head the song this way, like, 'Where is the revolution?' It comes from each of us, it comes from within, it takes guts, it's like a call to arms or something. And it's also scattered with this sort of imagery of all these sort of failed idealistic Marxism, the big business, the band, all these ideas of these things that we follow and latch ourselves onto, but we know what's right within. One of the essences in life is choice: we do have a choice in what we do in the end, and they can be bad choices.
Martin Gore: It's always good if you have a track that kind of sums up the album, and it's even better if that song is hymnistic, and it's kind of powerful. So fortunately this time around we had 'Where's The Revolution'. We felt that was a great statement to make and should definitely be the first track to be released to bring us back with a statement. I think that if the album had been released months ago, we probably would have gone with that as the first single, because it is representative and powerful like I said.
Worst Crime
Dave Gahan: 'Worst Crime' played out like I wanted it to get out and I think there's just something beautiful about that song. It's about a fear of being different, and "I will go with that, prove me right, I'm on the right side." That song may appear in a very sad way, but lyrically it really spoke to me. I really wanted to do that song justice, and I felt like that song really came out well.
You Move
Dave Gahan: It was a weird song. Martin had sent me this rhythm track that was really odd, and he said "I don't know what to do with this, maybe you can have a go at doing something to it." So I was baffled at first, but it almost felt like he had sent me an incredible challenge, because it has such a weird time signature and weird sounds. And there wasn't a lot of chord structure to it that I could really latch onto. So I let it just simmer and I left it alone, and I was like "I don't know, this is like a jigsaw puzzle." But then one night I was in bed and I suddenly remembered this rhythm playing that Martin had sent me, and I suddenly got this hookline into my head, 'I like the way you move'. And there was something about what he had sent me too. I just couldn't get it out of my head, so I got out and kind of threw something into my iPhone. And the next day I went into my studio and I kind of formulated my idea into a melody and this lyric came out. I don't really know why. Sometimes music is like that: you respond to something, it's call and response, somehow. But I thought it's really interesting, us doing a little collaboration too. I hope that in the future we can do more of that. I'm certainly open to the idea of Martin sending me things. He's a great songwriter, and if he comes with a finished song and gives it to me, I think there's plenty of room for us to maybe explore it too. I'd quite like that, that's definitely a taste of what could come.
Cover Me
Dave Gahan: I thought that a big surprise for me was how 'Cover Me' ended up being. I heard that song when that song was written by myself, Pete and Christian, who have been performing live with us next to twenty years. So they had some ideas that they wanted me to write to, and it ended up being 'Cover Me'. And I always heard this idea of the song being in two halves: one half is this sort of lyrical idea, and the other song being something kind of another world. For me, it sounds really well on the album. The song is here and you kind of go in a spaceship and go somewhere else. And that was kind of the idea behind the song. It came out really well, I was really pleased - I think everybody was in the end. I was surprised how well that came out. Sometimes you are just dreading the demos. If you are in a band, and you bring in the demos, and you try to get them [into it, you say] "Look, this is a demo. I want us all to collectively work on this, and let's see where it goes." It's sometimes really difficult to have another person to hear what you hear and you can't really explain it. But that one definitely got everyone involved, and it went off. And Martin got very involved, we sat down at the piano, we worked on some of the lyrical ideas as well as well as the melody... maybe not so much the melody but some of the chords. And Martin is great with that, he would sit at the piano and get into the song as well, and he'd really kind of give his best. And he did, I think, on that song.
Martin Gore: The demo was quite good, but I think that in the studio we really took it on and made it into something that was even better. And the bit at the end, that really long instrumental piece, did not exist before. So I think that that has made that song into something that was much better than the demo, even though the demo was quite good.
Poison Heart
Dave Gahan: Sometimes it's hard to talk about things you've written in songs, the lyrics and stuff. You don't know where they come from, sometimes. It's sort of a throwback, it sounds like something that has come out of the '60s. When I first heard the guitar line that was given to me, I immediately - I don't know why - heard this phrase in my head, "You have poison in your heart", and that was immediately followed by "I'm sure of it". It's not something I'm sure of. I was sort of looking at myself at first. And then I had this whole other outside perspective as well with what was going on in the world, or in my little world, when I wrote it. Politically, there was stuff going on in England, all the talks about us doing Brexit, Brexit then happening, campaigning was going on over here at home. And I was like, "What's happening?" Some of the rest of the songs came together during that time. That song was written a good year ago or something. I think it's impossible to not be affected by stuff that goes on. But to me, the song was really about a relationship, this relationship that you can have with yourself or another person, or the world, however you wanna look at it. It doesn't quite work. And you have to take the blame and say how much responsibility you're gonna take yourself. It's kind of spiky, and it's actually one of my favourite songs that I've written. There's something really free about it, and it came quite fast, the lyric, and the melody came quite fast, and it all came together, which doesn't often happen. And I like the feel of it, the feel of is just like this '60s thing.
So Much Love
Martin Gore: That was the last song that I wrote. I just felt that I needed to have a positive statement on there, just to say: it does not matter what is going on, you can't take this away from me. One of the suggestions was for us to finish on that song, but it didn't really work. It worked thematically: it would have been great. But it was the only really fast song that we had. And to end on that, people would have to get through all the slow songs before getting to, you know, faster than, I don't know what it is, 110 [bpm] or something.
Dave Gahan: Hi this is Dave Gahan of Depeche Mode. Thanks for listening to our Backstage on Amazon. See you on tour.