2017-06-19 Dave Gahan: Depeche Mode frontman talks sobriety
From DM Live - the Depeche Mode live encyclopedia for the masses
Jump to navigation
Jump to search
Notes
Dave Gahan discusses how sobriety has helped him embrace emotions he once tried to inhibit in a brief June 2017 interview with the MusiCares Foundation.
Article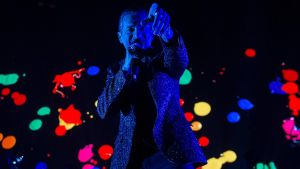 Former MusiCares MAP Fund Stevie Ray Vaughan Award recipient reveals how sobriety has helped him embrace emotions he once tried to crush down
BRIAN HAACK - MUSICARES - JUN 19, 2017 - 6:00 AM
Dave Gahan, co-founder of the venerable GRAMMY-nominated new wave/dance rock mainstay Depeche Mode, has a lot to be thankful for.
Along with surviving the typical ups and downs that are a necessary counterpart to the experience of spending nearly 40 years as the leading man in a world-touring rock band, the singer has also weathered more personal storms stemming from years of past drug and alcohol addictions.
Along the way, Gahan strove not just to lift himself from the depths of addiction — a herculean feat for any individual — but also worked tirelessly to support the charities and programs that helped give him a second chance, in turn providing support to other artists in recovery facing similar circumstances.
His efforts to support the missions of organizations such as MusiCares eventually led to his being honored with the MusiCares MAP Fund's Stevie Ray Vaughan Award in 2011. The annual award is given each year to artists who exemplify an ethos of dedication to helping others navigate the difficulties of the recovery process.
In comparing his modern experiences onstage in contrast to his past years of substance abuse, Gahan stresses gratitude and mindfulness as his main takeaways and driving force.
"As I'm performing, I'm fully aware of what's going on. I pride myself on being extremely present, he says. "I want to feel what happens emotionally."
Gahan, the voice behind classics such as "Enjoy The Silence," has also found that sobriety has helped him be more expressive with his feelings.
"I'm known for wearing my feelings on my sleeve — as they say quite often — and I've found that, for me, that works because I don't want to bottle them up like that. I don't think that's good for anybody," Gahan says. "It's certainly not good for me because I tried doing that for years. I tried smashing down at the way I felt about everything with booze and drugs ... I mean, it works for a time, and then it doesn't. … There are points where you lose people or things happen, and they could be strangers, but they sometimes have a profound effect."