2021-12-05 London Coliseum, London, England, UK
From DM Live - the Depeche Mode live encyclopedia for the masses
Jump to navigation
Jump to search
Notes
This concert was announced on 8 November 2021 via LiveNation to promote the Dave Gahan & Soulsavers album Imposter.
Join Dave Gahan & Soulsavers for an intimate live performance of 'Imposter'. Sunday, December 5 at London Coliseum. Tickets available this Friday, November 12.
According to fan photos, Peter Gordeno and Andy Franks were in attendance of this concert. The Rails were the support act.
Set list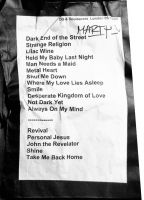 Ticket