2021-12-10 Salle Pleyel, Paris, France
From DM Live - the Depeche Mode live encyclopedia for the masses
Jump to navigation
Jump to search
This concert was announced on 22 November 2021 via LiveNation and Facebook to promote the Dave Gahan & Soulsavers album Imposter.
Imposter' is coming to Paris. Join Dave Gahan & Soulsavers for an intimate, live performance of 'Imposter' -- Dec 10 at Paris' Salle Pleyel. Tickets on sale Thursday at 10am CET: https://www.livenation.fr/artist-dave-gahan-1353099
A notice of filming was posted at the venue, and according to a French fan forum, there were about 10 cameras in the venue.
Set list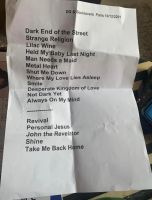 Ticket