And Then...
From DM Live - the Depeche Mode live encyclopedia for the masses
Jump to navigation
Jump to search
And Then...

Song
And Then...
By
Depeche Mode
Songwriter
Martin L. Gore
Produced by
Daniel Miller
Depeche Mode
Recorded at
The Garden (London)
Length (mm:ss)
5:39
Tempo
101 BPM
Time signature
4
4
Key
F Minor
Engineered by
Ferg Peterkin
Gareth Jones
Tonmeister
Gareth Jones
Mixed at
Hansa Mischraum
Mastered by
Christian Stegmaier
Design
Martyn Atkins
Town & Country Planning
Illustrations
Ian Wright
Originally released
22 August 1983
Live performances as Depeche Mode
48 times

*

Total live performances
48 times

*
"And Then..." is a song from the 1983 album Construction Time Again by Depeche Mode.
Lyrics
And Then...
Let's take a map of the world
Tear it into pieces
All of the boys and the girls
Will see how easy it is

To pull it all down and start again
From the top to the bottom and then
I'll have faith, or I prefer
To think that things couldn't turn out worse

All that we need at the start's
Universal revolution (that's all)
And if we trust in our hearts
We'll find the solutions

Took a plane across the world
Got in a car
When I had reached my destination
I hadn't gone far

Let's take the whole of the world
The mountains and the sand
Let all the boys and the girls
Shape it in their hands
Songwriter: Martin L. Gore
Publishing Information: ©1983 Grabbing Hands Music Ltd/EMI Music Publishing Ltd. All rights reserved.
Martin Gore 1983 home demos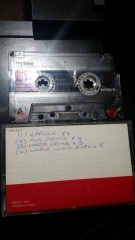 'And Then...' is one of several song demos prepared by Martin Gore for the 1983 Construction Time Again album.
Live performances
Main article: Available recordings of "And Then..."
Main article: List of dates where "And Then..." was played