BONGFAN1
From DM Live - the Depeche Mode live encyclopedia for the masses
Jump to navigation
Jump to search
Notes
Depeche Mode - Commemorative CD (BONGFAN1) is an interview CD included with the BONG Magazine, issue 50, containing previously unheard answers to interview questions posed by BBC London 94.9 FM's Tony Wood. This interview was used for a two-hour documentary made by BBC London on 2001-05-07.
BONG 50 Transcript
Below is a transcript of page 5 from the BONG 50 magazine issue which explains the contents of this disc.
BONG 50 Commemorative CD

July 1989 was a momentous month for me. And it was all down to my friend Neil sneaking along a copy of 101 to Cornwall when he joined me on my family holiday. As two eager and naive 15 year olds, we played it on heavy rotation until it would practically play no more. On our return to Nottingham I found myself in several record shops purchasing everything I could from Depeche Mode's back catalogue. Sitting on the bus heading home looking at the bags of vinyl, I realised just how big an impact that album had had on me.

Nowadays, my record collection is 12 years larger. It includes almost every track ever released by Depeche Mode - not because I felt a duty to buy it for the purpose of being able to display a complete collection - but simply because I liked the music.

Little did I know that more than a decade after that memorable hearing of 101, I would get to make the first radio programme to document the band's journey from Basildon minnows to stadium-filling world domineers. It would be an experience I'd never forget.

During the making of the programme I collected over 8 hours of footage, a huge percentage of which has never seen the light of day. That is until now.

The CD included with this 50th edition of Bong magazine is a compilation of some of those unheard clips, and it is a gift from Martin, Fletch and Dave to say thank you to their most loyal fans across the globe. It is exclusive to subscribers - it cannot be obtained anywhere else.

I'd like to take this opportunity to thank Fletch, Martin, Dave, Alan, Vince, Anton, and Daniel for allowing me to use their excerpts. Also thanks to Gary Crowley for his help with the interviews and for presenting the programme and lastly to Shaun Connon whose assistance has been invaluable.

Finally, you can still hear the documentary on depechemode.com if you missed it. And tell your friends about it. You never know what impact it might have.

Tony Wood
BBC London 94.9 FM
Audio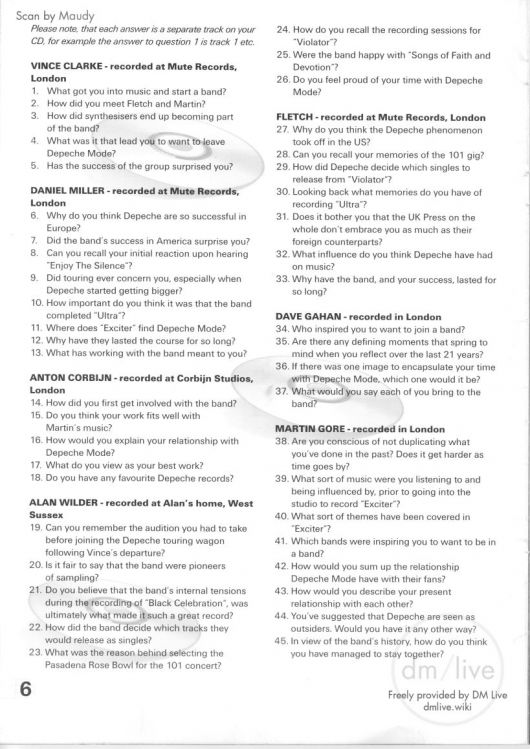 VINCE CLARKE - recorded at Mute Records, London
01. [0:39] Play What got you into music and start a band?
02. [0:18] Play How did you meet Fletch and Martin?
03. [0:39] Play How did synthesisers end up becoming part of the band?
04. [0:28] Play What was it that led you to want to leave Depeche Mode?
05. [0:34] Play Has the success of the group surprised you?

DANIEL MILLER - recorded at Mute Records, London
06. [0:54] Play Why do you think Depeche are so successful in Europe?
07. [0:32] Play Did the band's success in America surprise you?
08. [1:22] Play Can you recall your initial reaction upon hearing Enjoy The Silence?
09. [1:22] Play Did touring ever concern you, especially when Depeche started getting bigger?
10. [1:11] Play How important do you think it was that the band completed Ultra?
11. [1:47] Play Where does Exciter find Depeche Mode?
12. [1:43] Play Why have they lasted the course for so long?
13. [1:30] Play What has working with the band meant to you?

ANTON CORBIJN - recorded at Corbijn Studios, London
14. [1:45] Play How did you first get involved with the band?
15. [0:35] Play Do you think your work fits well with Martin's music?
16. [1:16] Play How would you explain your relationship with Depeche Mode?
17. [1:12] Play What do you view as your best work?
18. [0:27] Play Do you have any favourite Depeche records?

ALAN WILDER - recorded at Alan's home, West Sussex
19. [1:21] Play Can you remember the audition you had to take before joining the Depeche touring wagon following Vince's departure?
20. [0:55] Play Is it fair to say that the band were pioneers of sampling?
21. [1:08] Play Do you believe that the band's internal tensions during the recording of Black Celebration, was ultimately what made it such a great record?
22. [0:33] Play How did the band decide which tracks they would release as singles?
23. [1:05] Play What was the reasoning behind selecting the Pasadena Rose Bowl for the 101 concert?
24. [1:44] Play How do you recall the recording sessions for Violator?
25. [0:58] Play Were the band happy with Songs of Faith and Devotion?
26. [1:05] Play Do you feel proud of your time with Depeche Mode?

FLETCH - recorded at Mute Records, London
27. [1:37] Play Why do you think the Depeche phenomenon took off in the US?
28. [1:23] Play Can you recall your memories of the 101 gig?
29. [1:27] Play How did Depeche decide which singles to release from Violator?
30. [0:46] Play Looking back, what memories do you have of recording Ultra?
31. [0:48] Play Does it bother you that the UK Press on the whole don't embrace you as much as their foreign counterparts?
32. [0:37] Play What influence do you think Depeche have had on music?
33. [0:47] Play Why have the band, and your success, lasted for so long?

DAVE GAHAN - recorded in London
34. [1:21] Play Who inspired you to want to join a band?
35. [0:38] Play Are there any defining moments that spring to mind when you reflect over the last 21 years?
36. [0:37] Play If there was one image to encapsulate your time with Depeche Mode, which one would it be?
37. [1:38] Play What would you say each of you bring to the band?

MARTIN GORE - recorded in London
38. [0:25] Play Are you conscious of not duplicating what you've done in the past? Does it get harder as time goes by?
39. [0:45] Play What sort of music were you listening to and being influenced by, prior to going into the studio to record Exciter?
40. [0:23] Play What sort of themes have been covered in Exciter?
41. [0:21] Play Which bands were inspiring you to want to be in a band?
42. [0:22] Play How would you sum up the relationship Depeche Mode have with their fans?
43. [0:32] Play How would you describe your present relationship with each other?
44. [0:25] Play You've suggested that Depeche are seen as outsiders. Would you have it any other way?
45. [1:05] Play In view of the band's history, how do you think you have managed to stay together?

Listen
You can listen to this entire recording below in one shot if you don't want to keep clicking play on each track, though it may be a little difficult to follow without clear breaks between each answer.
Lineage
Original CD generously purchased and ripped by Bairdicus.
Scans of BONG 50 magazine provided by Maudy.
auCDtectTaskManager log included
Catalog Number: BONGFAN1 (Depmod info | Discogs info)
Download