2011-05-07 Depeche Mode singer honored at L.A. sobriety event
From DM Live - the Depeche Mode live encyclopedia for the masses
Jump to navigation
Jump to search
Notes
Reuters reports on Dave Gahan's acceptance of the Stevie Ray Vaughan Award during the 7th Annual MusiCares MAP Fund Benefit concert in Los Angeles in a May 2011 article.
Article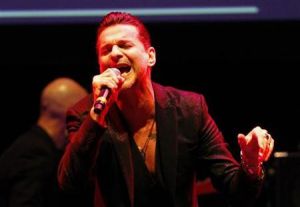 Dean Goodman - MAY 7, 2011 - 2:15 AM
LOS ANGELES (Reuters) - Depeche Mode singer Dave Gahan, a former heroin addict who cheated death during the 1990s, was honored for his sobriety on Friday by a charity that helps musicians who have fallen on hard times.
The seventh annual MusiCares MAP Fund Benefit Concert attracted rock luminaries including Aerosmith frontman Steven Tyler, Smashing Pumpkins singer Billy Corgan, Go-Go's guitarist Charlotte Caffey, Billy Idol and director Cameron Crowe.
Gahan headlined a performance bill that also featured alternative rock band Jane's Addiction, pop combo Paramore and Latino ensemble Ozomatli. His bandmate Martin Gore made an unannounced appearance, partnering with Gahan on their big hit "Personal Jesus."
Guests paid up to $1,250 each to attend and plenty of screaming Depeche Mode fans packed the relatively cheap $125 seats in the balcony of the downtown club. Dinner was served but alcohol was off the menu.
Also honored was concert promoter Kevin Lyman, the man behind the annual Warped tour of punk and emo bands.
Gahan, 48, told Reuters before the event that he lives a clean life now, although it requires discipline and self-control to avoid giving in to temptation.
"If you sit in a barber's shop long enough, you're gonna get a f—-in' haircut," he said with a laugh.
"I don't hang out with people that are getting high because I'm not that strong. It's fun to party and I had a lot of fun, and I kind of used up all my chips in that department."
Gahan attempted suicide in 1995 by slashing a wrist, following years of drug abuse that had destroyed his second marriage and imperiled his membership of Depeche Mode. The wound was not deep enough to be life-threatening but he was locked up for psychiatric evaluation.
He almost died in 1996 when his heart stopped for several minutes after he overdosed. He finally cleaned up about two years later.
Gahan was introduced at the event by Aerosmith's Tyler, who has had considerably more difficulty staying clean, as detailed in the memoir he published this week.
"One of the hardest things an addict can do is to get sober and to stay clean," Tyler told the crowd.
A woman yelled out "One day at a time" and Tyler replied "Yeah, yeah baby!"
Gahan and a pickup band performed a selection of covers, including David Bowie's "Cracked Actor" and the Damned's "New Rose."
Depeche Mode, which rose to fame during the 1980s with gloomy songs targeted at disaffected youngsters, wrapped up its most recent world tour in Germany in February 2010. Gahan said he is working on songs for the follow-up to the band's 2009 album "Sounds of the Universe."
The MusiCares MAP Fund, run by the group that hands out the Grammys, provides access to addiction recovery for members of the music community.
Editing by John O'Callaghan
Photos