2011-05-06 MusiCares Map Fund Benefit, Club Nokia, Los Angeles, CA, USA
From DM Live - the Depeche Mode live encyclopedia for the masses
Jump to navigation
Jump to search
In 2011, Dave Gahan was invited to perform an intimate show and be presented with the Stevie Ray Vaughan Award by MusiCares, a non-profit foundation that provides assistance to musicians experiencing financial, personal, or medical crises. The award is presented to musicians in recognition of their devotion to helping other addicts struggling with the recovery process. Gahan had long been an ardent supporter of MusiCares, and in 2007 was notably invited to perform two songs in honour of late Soundgarden lead vocalist Chris Cornell's volunteer work with musicians struggling with addiction. Fellow recovering addict Steven Tyler of Aerosmith presented the award to Gahan.
Notes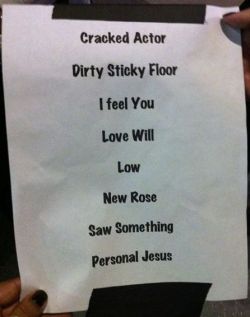 Band line-up:
Dave Gahan: Vocals
Martin Gore: Guitar
Martyn LeNoble: Bass
Curt Bisquera: Drums
Vincent Jones: Keyboards
Joel Shearer: Guitar
Jason Orme: Guitar
A multicam video of the concert compiled from multiple video clips that were uploaded on YouTube was produced by 'DJ Menace'. The original upload by Menace is no longer available, but has been mirrored on a Russian social media site.
Set list