Pipeline
From DM Live - the Depeche Mode live encyclopedia for the masses
Jump to navigation
Jump to search
Pipeline

Song
Pipeline
By
Depeche Mode
Songwriter
Martin L. Gore
Produced by
Daniel Miller
Depeche Mode
Recorded at
The Garden (London)
Length (mm:ss)
5:54
Tempo
81 BPM
Time signature
4
4
Key
B Minor
Engineered by
Ferg Peterkin
Gareth Jones
Tonmeister
Gareth Jones
Mixed at
Hansa Mischraum
Mastered by
Christian Stegmaier
Design
Martyn Atkins
Town & Country Planning
Illustrations
Ian Wright
Originally released
22 August 1983
Live performances as Depeche Mode
109 times

*

Total live performances
109 times

*
"Pipeline" is a song from the 1983 album Construction Time Again by Depeche Mode.
Notes
Andy Fletcher told the 1984-01-07 issue of Melody Maker:
"We went down Brick Lane and just hit everything and then recorded it and took it back to the studio and then put it into the keyboard. That's how we made the track 'Pipeline'. We was like smashing corrugated iron and old cars. The vocals were recorded in a railway arch in Shoreditch - you've got the train three-quarters of the way through and the aeroplane up above. It's really interesting doing that."
Dave Gahan also told the 1983-08-20 issue of Sounds:
"Well 'Pipeline' was very experimental in that every sound on there has been made from us just out on the street hitting things, recording it and playing it back in different ways – like, even the vocal was recorded in a tunnel!"
Lyrics
Pipeline
Get out the crane
Construction time again
What is it this time

We're laying a pipeline

Let the beads of sweat flow
Until the ends have met though
Could take a long time

Working on the pipeline

Taking from the greedy
Giving to the needy

On this golden day
Work's been sent our way
That could last a lifetime

Working on the pipeline

From the heart of our land
To the mouth of the man
Must reach him sometime

We're laying a pipeline

Taking from the greedy
Giving to the needy
Songwriter: Martin L. Gore
Publishing Information: ©1983 Grabbing Hands Music Ltd/EMI Music Publishing Ltd. All rights reserved.
Martin Gore 1983 home demos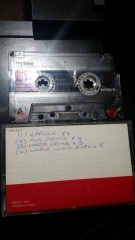 'Pipeline' is one of several song demos prepared by Martin Gore for the 1983 Construction Time Again album.
Live performances
Main article: Available recordings of "Pipeline"
Main article: List of dates where "Pipeline" was played