The Blood
From DM Live - the Depeche Mode live encyclopedia for the masses
Jump to navigation
Jump to search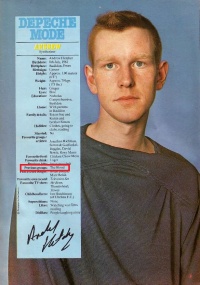 Notes
At the end of 1981, all members of Depeche Mode were asked to fill in a questionnaire for kids' magazine Look-In, and one of its questions was "previous groups?". Andrew Fletcher answered this with "The Blood" (see right).
Author Jonathan Miller went on a quest to find out more about this for his Depeche Mode biography 'Stripped' around 2001, but did not find more evidence. Vince Clarke told Miller: "It's the kind of thing Fletcher would do, but, knowing him, it was more a figment of his imagination! He probably had a concept, but I'm not sure if The Blood ever performed; I'm not sure who was in it — apart from himself!" Daryl Bamonte also tells DMLiveWiki: "I don't remember The Blood."
Miller also interviewed former Nicholas Comprehensive pupil Chris Sheppard, and he remembered seeing Fletcher quite regularly: "We used to travel home on the same late night bus after he had been playing at a Basildon pub. He was always lugging a guitar around with him."
Other than that, there is no other evidence of this band...