Zoom 9010
From DM Live - the Depeche Mode live encyclopedia for the masses
Jump to navigation
Jump to search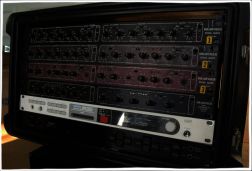 The Zoom 9010 multi-effect processor was one of many pieces of equipment sold in the 2011 Alan Wilder / Depeche Mode Collection. This rack-mount effects unit was used during the recording of Songs Of Faith And Devotion, Ultra, and several Recoil albums, and was sold with relevant presets and settings.
If you possess the Zoom 9010 unit from Alan's auction, please reach out to [email protected].
Alan Wilder's Comments
This superb little unit has a unique sound of [its] own and has been a 'go-to' effect for many years, both with Depeche Mode and Recoil. This particular box still has stored many of the guitar effects used on '[Songs Of Faith And Devotion]' including the 'I Feel You' guitar settings amongst many others. It is also very versatile and adaptable – often we would use it on a voice for example to create a dirty, radio-frequency effect, or perhaps on drum loops like on 'Mercy In You'.[1]
References