1984-11-02 Hammersmith Odeon, London, England, UK/Source 4
From DM Live - the Depeche Mode live encyclopedia for the masses
Jump to navigation
Jump to search
Notes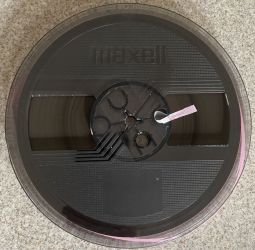 A very good sounding FM broadcast recording. The recording is a little bass-heavy and some songs have a slight amount of distorted bass as a result, but otherwise this is a great sounding recording with only the occasional minor flaw. The radio station which broadcast this segment is identified as WXRT in Chicago, as heard by a short spoken identifier before Ice Machine. This music was broadcast as part of their "11th Hour" segment.
The concert introduction is incomplete. Ice Machine fades in, but no music is lost. There is a break between Master And Servant and Photographic, so the introduction to Photographic is missing the first few seconds. It sounds like the first few seconds of Everything Counts are missing as well, but this is the case even on the transcription disc and the other available FM broadcast recording; only the raw soundboard cassette (Source 2) has the complete introduction.
This is a cut-down broadcast, omitting "Puppets", "If You Want", and "Somebody" which are found on the BBC Transcription Disc pre-FM vinyl available as Source 1, and also lacking "Blasphemous Rumours" which was broadcast in the UK; a recording of that broadcast is available as Source 3.
This audio was speed-corrected using the 19kHz FM pilot tone as a reference. Sliding speed correction was used to bring the pilot tone to about 19kHz throughout the entirety of the recording.
This reel tape was an eBay purchase which cost $39.58 in total. It was hoped that "Blasphemous Rumours" would be present on this broadcast to have an alternate source other than the FM master cassette of the UK broadcast, but unfortunately that is not the case. However, this is still a very good sounding recording, and is worth sharing.
Many thanks to Gerhard at The Vintage Audio for allowing DM Live to use his excellent Teac reel-to-reel to transfer this tape and for assisting with the transfer process.
There are several other recordings from this concert:
Source 1 is the BBC Transcription Disc (In Concert 345): pre-FM recording of 12 songs
Source 2 is a second-generation cassette copy of a raw soundboard recording containing 17 and a half songs
Source 3 is an excellent sounding UK FM broadcast recording from a master cassette which contains "Blasphemous Rumours" not found on the pre-FM transcription disc or this particular FM broadcast recording.
Listen
You can listen to this entire recording below.
Track list
Lineage
WXRT 93.1 FM in Chicago -> unknown FM tuner -> unknown 2-track reel-to-reel deck -> Maxell UD reel tape recorded at 7.5 ips and no noise reduction -> playback on Teac X-2000R -> RCA to 1/4" cables -> Focusrite Scarlett 2i2 3rd gen USB audio interface -> recorded in Audacity 2.4.2 (32-bit 88.2kHz) -> WAV (32/88.2) -> in Adobe Audition 2022 build 22.2.0.61: speed & pitch correction (slow down 0.4 to 1.3% (initial and final stretch) based on 19kHz FM pilot tone), first 35 seconds slowed down 0.25% afterwards; in Audacity 3.1.3: stereo channels phase aligned, normalized to -0.1dB and any DC offset removed, track splits -> WAV (32/88.2) -> downsampled to FLAC level 8 (16/44) using foobar2000 v1.6.10, FLAC 1.3.4 64-bit, and foobar2000's Resampler (SoX) component v0.8.3 (best quality), dithering enabled
Generation: master
Taper: unknown
Transfer: DMLiveWiki on February 6, 2022
Reel photos and auCDtectTaskManager log included
Download