Difference between revisions of "1990-03-20 Wherehouse record store incident"
From DM Live - the Depeche Mode live encyclopedia for the masses
Jump to navigation
Jump to search
Line 47:
Line 47:

=== ''After Hours'' - June 1990 ===

=== ''After Hours'' - June 1990 ===






Footage of the in-store event recorded prior to the band's evacuation was included in a feature on American entertainment news show ''After Hours'' in June 1990.<ref>Source: Footage courtesy of Instagram user [https://www.instagram.com/p/B04eQfaBzyo/?fbclid=IwAR1YAQtT8A76ApJ1z3c-z4Pqsbs_9ht2Da7UaC7vQIoNaiZ_evxQfo6Rtng vhschunks].

Footage of the in-store event recorded prior to the band's evacuation was included in a feature on American entertainment news show ''After Hours'' in June 1990.<ref>Source: Footage courtesy of Instagram user [https://www.instagram.com/p/B04eQfaBzyo vhschunks].

Retrieved via [https://www.facebook.com/groups/depechemodeclassicfansphotosandvideos Facebook group "Depeche Mode Classic Photos And Videos"].</ref>

Retrieved via [https://www.facebook.com/groups/depechemodeclassicfansphotosandvideos Facebook group "Depeche Mode Classic Photos And Videos"].</ref>






<html5media height="400" width="400">https://dmlive.wiki/images/2/2a/20-03-1990_Depeche_Mode_featured_on_After_Hours_TV_show%2C_June_1990.mp4</html5media>

<html5media height="400" width="400">https://dmlive.wiki//-03-%.mp4</html5media>






== Quotes ==

== Quotes ==
---
Revision as of 07:01, 20 March 2021
The Wherehouse record store incident was an incident in which Depeche Mode were infamously forced by the Los Angeles police department to evacuate an in-store record signing event to promote their newly-released album Violator due to an unexpectedly high turnout of approximately 17,000-20,000 people, with a venue capacity of only 150.[1] The incident is considered by fans and media to be a major breakthrough for Depeche Mode in America, further heralding the group's transition from a cult British act to a mainstream international success in spite of minimal radio airplay and promotion.
Background
The Wherehouse record signing event was jointly organized by Los Angeles radio station KROQ-FM, Mute Records, and The Wherehouse, a record and video store chain. The event was to be held at the Wherehouse record store location on La Cienega Boulevard on 20 March to coincide with the 19 March release of Depeche Mode's 1990 album Violator. The event was to feature all four members of Depeche Mode (Dave Gahan, Alan Wilder, Martin Gore, and Andrew Fletcher), who were scheduled to greet fans and sign memorabilia from 9 p.m. to midnight. Fans were to queue in line on the sidewalk outside the venue with any memorabilia they wished to have autographed, and were to be allowed entry into the store in small groups at a time. A crew of security guards were employed to escort the band to and from the store and supervise fan interactions.
The event enjoyed heavy radio promotion by KROQ-FM in the week leading up to the event, during which time rumour spread that there could be a turnout of 10,000 people or more. Addressing these rumours, Martin Gore called in to the live music television programme Request Video (hosted by former KROQ DJ Jim "The Poorman" Trenton) several days prior to the event to state that, despite his hope that there might be "a bit of mayhem", any callers who believed that 10,000 people might show up to the record signing may be in for a disappointing turnout.[1].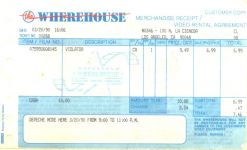 Incident
Many KROQ-FM jocks and personalities were in attendance on the day of the promotion, including the then-new morning show team Kevin and Bean as well as Jed The Fish. The late Spacin' Scott Mason performed engineering duties, while KROQ-FM DJ Richard Blade was to interview the band for a live broadcast throughout the evening from inside the venue. Jim "The Poorman" Trenton was to film the event with the Request Video camera crew. Depeche Mode photographer Anton Corbijn was in attendance, who shot the photograph used for the cover of the promotional cassette that was later distributed as an apology to local fans who suffered injuries or were unable to have memorabilia signed.
By 8 p.m., a large crowd of several thousand spanning La Cienega to Fairfax had already begun to develop.[1] Some fans had begun camping out near the venue as early as the night before.
Depeche Mode arrived in a limousine at 9 p.m. as scheduled, and were escorted into the venue by half a dozen security guards amidst a throng of screaming fans. Notably, in stark contrast with the chaos outside the venue, the atmosphere inside the Wherehouse location was initially reported to be calm and quiet.[1] The band were sat at a long table supplied with Rolling Rock beer as they autographed fan memorabilia and answered interview questions. Gahan responded when asked if he had heard the crowd estimate from the LAPD: "Yeah, 17,000. [...] It's not even something planned. We were asked to do an in-store. It seemed like a good idea, since we weren't doing any gigs at the moment. We never expected this kind of turnout."[1].
The live remote KROQ broadcast, compounded by news coverage from all major Los Angeles news stations, acted as a catalyst for the increasingly hysterical mass of fans queuing outside the venue waiting for their opportunity to meet the band. Noting the unwieldy size of the crowd and the decreasing odds that the band will be able to provide autographs for everyone, some fans became anxious and began to force their way in to the store. Hundreds of fans outside the venue pressed up against the plate glass windows of the store, while a group of fans bum-rushed the glass doors, requiring the intervention of ten security guards and Wherehouse employees to keep the doors closed.
By 10:15 p.m., the Los Angeles police department decided the situation had become unsafe for the band as well as the fans, promptly relocating the members of the group to a back room before escorting them out of the building. An announcement was made that the band would not be able to continue signing autographs, spurring an angry reaction from members of the crowd, who began banging on the windows. Outside the venue, a group of drunk people began to throw rocks and beer bottles from the top of the parking structure directly above the store. Fans were perched in nearby trees, while others began jumping on the tops of news vans and power boxes, breaking car windows, and destroying city property. Attendee Art Cortez, 16, reported to a local newspaper that some people in the crowd were "getting stepped on and one girl fainted. It was like a riot." A linked-arm barricade estimated to have been comprised of at least 100 police officers in riot gear equipped with shields and billy clubs began to barricade the affected streets. Mounted officers on horseback monitored the scene from street level, while police helicopters surveilled the scene from above.
The crowd was finally quelled when the Los Angeles police department cordoned off the nearby streets for two hours, making no arrests. Seven attendees reportedly suffered minor injuries. The members of Depeche Mode returned to their hotel and watched national news outlet reports on the incident.[2]
Aftermath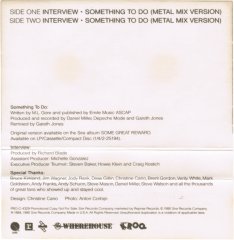 In shock at the outcome of the promotion, there was concern on the part of Mute Records, KROQ, and the Wherehouse that they may be sued. KROQ DJ Jim Trenton unknowingly fueled their fears during the following night's weekday airshift radio show by asking listeners who attended the Wherehouse promotion the night before to call in if they had been injured. Trenton recalls in a September 2019 piece for OC Weekly:
I remember putting a bunch of callers on the air, including one girl who claimed she had broken her leg. This was not smart. KROQ, Mute Records, and The Wherehouse were very afraid they were going to get sued. Here I was helping to realize those fears. [...] The following morning, Thursday, I was suspended from my radio show for at least the rest of the week. I was very afraid I'd be fired. At that point, I decided to leave town. [My girlfriend] Jennifer and I drove up to San Francisco for a few days. We saw Sean Connery and Alec Baldwin in the movie 'The Hunt for Red October'. That's about all I remember from the trip other than I didn't get fired and was back on the air the following Monday. [...] Now here's the real interesting part: We left for San Francisco on Thursday the 22nd and didn't return until Sunday the 25th. Exactly nine months later and married by then, my one and only son Nick was born on Christmas Eve, Dec. 24. Now I'm just sayin' ...[1]

— KROQ-FM DJ Jim "The Poorman" Trenton - OC Weekly, September 2019
Los Angeles city councilman Zev Yaroslavsky criticised KROQ for allowing such a large number of fans to stand in line. Local newspapers reported that the city of Los Angeles demanded The Wherehouse to pay damages of $20,000 to $30,000 for police time, paramedics, and clean-up costs.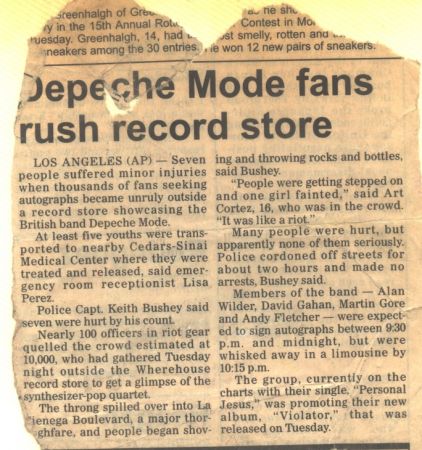 As an apology to fans who were inconvenienced or suffered minor injuries as a result of the incident, approximately 25,000 copies of a promotional cassette were reported to have been produced at Daniel Miller's direction.[3] The cassette included a selection of interviews recorded at the time of and following the event, as well as the "Metal Mix" of Something To Do, which had not previously been available on any official release in the United States. Depeche Mode fans in the Los Angeles area were instructed by local radio station KROQ to mail in a stamped self-addressed envelope in order to receive the cassette.[3]
See more: Sire/Reprise PRO-C-4329
Media coverage
1990-03-2x Wherehouse incident footage is a compilation of about 20 minutes of raw news and police footage sourced from a Warner Bros. VHS tape.
After Hours - June 1990
Footage of the in-store event recorded prior to the band's evacuation was included in a feature on American entertainment news show After Hours in June 1990.[4]
Quotes
Yesterday in Los Angeles, British band Depeche Mode broke all previous records when they made an appearance at one of the biggest record stores in the world. Some 5,000 fans had camped outside the store for 4 days with the queue extending for nearly 2 miles. By the time the band arrived, there were more than 17,000 screaming fans outside, with The Beverly Centre opposite invaded by fans trying to get a better view. The LAPD closed down the event after 90 minutes because they felt the band's lives were in danger. 200 police units including helicopters and mounted officers in full riot gear tried to calm the fans down. Eventually, the police moved the band out of their hotel under escort. The police chief told us 'this is our biggest police operation since the presidential visit.'[5]

— Press statement - March 1990
"Chelsea on a Saturday afternoon – now that's a riot."
— Alan Wilder, QPR fan
---
Dave Gahan: "It actually got quite scary. The whole thing got a little bit out of control. There was no way we could have known that there was going to be so many people turn up. They have these huge glass windows and fans were pushing up against the window. You could feel the atmosphere in the place building up. We just all kind of looked at each other and said, 'We gotta get out of here!'"

Martin Gore: "Eventually it got so out of hand that the police told us to leave. So we went back to the hotel, switched on the TV and there we were all over the nationwide news."[6]
Dave Gahan: "[We] all sat down together and we flicked through all the news channels and it was like, 'English rock band Dee-Pesh Mode tonight stopped the traffic!'" [laughs] "It was really funny watching it all."[2]
---
Once we were outside, things really got scary. Directly above The Wherehouse was a four floor parking structure. [...] When it was announced that the band wasn't signing any more autographs, people were pissed and angry. They were in line for hours and hours. It sucked! The crowd began banging and shaking the windows. Thousands of crazy, drunk people were throwing bottles from the top of the parking structure. [My wife and I] immediately were dodging a rain of flying whiskey and beer bottles. It was insane! It got even dicier once we ran onto La Cienega Boulevard. Thousands and thousands of DM fans were going crazy everywhere, running through the streets like a mad mob. [...] Numerous people were perched in trees while others were jumping up and down on news vans and electrical power boxes. They were breaking car windows and destroying property everywhere. La Cienega was barricaded by a combination of at least 100 riot police who were holding shields and billy clubs and linking arms. There were also cops on horseback and police helicopters circling overhead. Despite their presence, they allowed the crowd to get crazy. It was a nightmare for us to find a safe exit to get back to my car parked a few blocks away. Amazingly, there were very few arrests. It was a miracle there weren't any deaths and few serious injuries.[1]

— KROQ-FM DJ Jim "The Poorman" Trenton - OC Weekly, September 2019
---
Music journalist Ted Mico described the chaos in the August 18th issue of Melody Maker:
[...] Modettes were spread over six square blocks and literally ground the entire city to a standstill. Nothing like this had happened in L.A. for years - even when U2 shot their video for 'Where The Streets Have No Name' on a Downtown roof. Depeche Mode bigger than Jesus? Not quite, but they'd give Bono a run for his money and are taken as seriously and followed as fanatically here as The Cure or New Order are in Britain.[7]
References