2015-10-22 Town Hall, New York, NY, USA/Source 1
From DM Live - the Depeche Mode live encyclopedia for the masses
Jump to navigation
Jump to search
Notes
A very good audience recording. Here are the taper's notes:
So, I had booked a flight out to New York this weekend because I was heading to a warehouse party to see Dixon play all night (btw, fantastic) and then Gahan and Soulsavers announced this show a day prior to that, so I had to change my flight. We managed to get tickets to this after a few times refreshing and getting nothing. These are center balcony seats, but to be honest, they were just off to the right a bit. Town Hall is one of the first theaters in New York I was told. A very small venue so taping from anywhere would be fine. I'll tell you about the tape first, I was really happy with the results despite some problems I had during the show. I think Gahan sounds great with this band, and I do like that he is trying some more 'blusier/R&B' music. The lyrics are somewhat elementary, but I've always been more of a person to enjoy the music than the words. Always love to hear Dave sing 'Condemnation' even if he does sing it out of key most of the time and that song is sung better by Martin. It was a great show and I am glad that I could record it.

So… To the problems.. So, I'm not one to judge, but for this instance I could not help myself. I had a lady sit next to me who was probably in her 50's (older Depeche fan) and she may have been the WORST concert attendee I have ever sat next to… I'm talking just deep in her phone posting photos and videos of the concert up to her FaceBook and every single social media account, even MySpace. Kidding on that last one… I have no idea. Great, she's just making sure that everyone knows that she is there at Dave Gahan. It's like why are you here if you're not even paying attention to the show? That wasn't the most annoying thing… It was the fact that she would SCREAM. NON. STOP. She would be texting/posting on her phone, not even paying attention to the concert but if people started to cheer, she would just yell? What?! Since she was so busy on the phone, Dave could've fallen off stage and the crowd would react and you'd just get a scream of a banshee from her since she wasn't paying attention. Every taper knows what I'm talking about with the screaming… You just cringe when it happens each time. Anyways, it made me check my levels a lot. So I would pull the M10 from out of my pocket. Well, I must've moved the cables a lot during it and there are a few dropouts (of 1.5 and 4 seconds respectively) during "All of This and Nothing" and "Kingdom." Not too bad as it was just in the left channel, so I swapped the right channel into it for that. But, my favorite concert goer decides she needs to go to the restroom halfway though the show and let's me know by talking right into my right mic on my glasses… I can't remember what song it's in as I listened back to this recording a few days ago and didn't make notes. But, as she did that I went to check my levels again and saw that my M10 was in auto record level instead of manual. It must have been in that setting for a few minutes as you cannot tell any difference on the tape. But that was just something else to add to the taping blunder. The last thing was since I was checking the levels so much and I don't think my connection was that great, my left channel has a weird buzz in it for a few songs. I am being very critical of the tape here… It's not noticeable when you listen to it on monitors/speakers, but you can hear it wearing headphones. I don't know what the cause of this was and it is what it is.

But, after all of that, I am happy with the result and as I was stressing the whole time about getting the banshee on the tape, the cards did well in not picking her up a lot! The sound in the venue was also not that great, it sounded muddy, but again, the mics picked up the sound very well! I'd have to say this tape is 8-8.5/10. I'm always very critical of my tapes, so you can be the judge of it. But I am happy with the tape. Enjoy if you do in fact grab this.

If you have any past recordings of Depeche Mode/affiliated acts (Solo Gore/Gahan/Recoil) and you would like to add to the live archive at https://dmlive.wiki, please get in contact with Matt by emailing: admin [at] dmlive [dot] wiki!
Listen
You can listen to this entire recording below.
Track list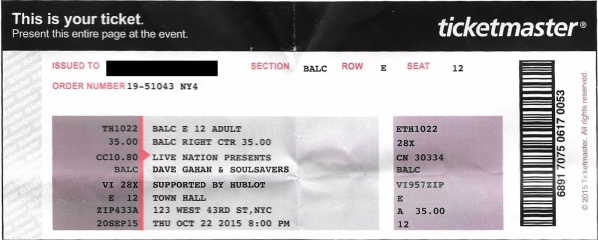 Lineage
Equipment: AT831a (4.7k mod) + CA-9100 (Roll of on) + Sony PCM-M10 (24/48)
Taper: RyanJ (RITCNIN)
Location: Center balcony, Row E
Lineage: WAV > Adobe Audition 3.0 (normalize to -0.1 db, reduce claps, fades) > CD Wave (tracking) > xACT (FLAC)
Download