1981-06-27 Crocs, Rayleigh, Essex, England, UK/Source 1
From DM Live - the Depeche Mode live encyclopedia for the masses
Jump to navigation
Jump to search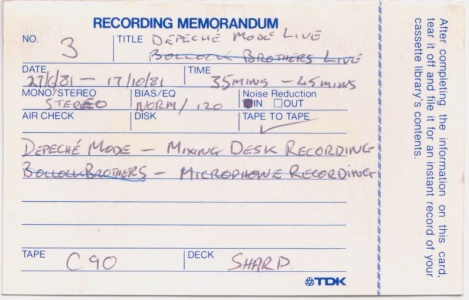 Notes
A complete soundboard recording of an early gig. Sound is very good, although to me it looks as if it is lossy or had excessive noise reduction applied to it. There has also been significant equalization to the audio.
Please see and listen to Source 2, which is a more raw transfer without any post-processing, noise-reduction, or equalization. You may prefer the sound of that version. Unfortunately, it is encoded as 320kbps MP3, but this is a high enough bitrate that there should not be any noticeable degradation of quality due to the lossy encoding.
Listen
You can listen to this entire recording below.
Track list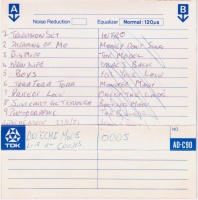 Total time: 35:11 (excluding last track)
Lineage
Mixing desk -> analog master (stereo) -> analog copy -> computer -> CDR -> CDR -> CDR -> wave -> normalization (no equalization) in Soundforge -> DBpowerAMP > FLAC (level 8)
Download