1981-06-27 Crocs, Rayleigh, Essex, England, UK/Source 2
From DM Live - the Depeche Mode live encyclopedia for the masses
Jump to navigation
Jump to search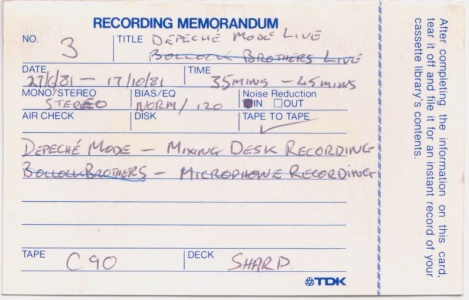 Notes
A superb sounding soundboard recording. Other than rather frequent slight dropouts, likely due to the age of the tape, less frequent lengthier drops in volume such as at the beginning of Television Set, and a bit of hiss and mains / ground hum, this recording is quite good and a very enjoyable listen. Tora! Tora! Tora! is restarted due to technical difficulties.
This transfer is different than the one at Source 1, which was a transfer provided by the eBay seller and has destructive noise reduction as well as equalization applied to it; this MP3 version is much more accurate to what is actually heard on the tape itself, without any post-processing, noise reduction, or equalization. Unfortunately, it is encoded to MP3 320kbps, but this is still a high enough bitrate that it should not make any audible difference. It was also transferred on a relatively low-end cassette deck, but in my opinion this is still a better transfer than Source 1 and is a more enjoyable listen.
Thanks to CPR for performing the transfer and allowing me to share this MP3 version. I am hopeful that I will be allowed to share a lossless version one day.
The streams below have not been re-encoded; these are the same 320kbps MP3 files you can download in the archive.
Listen
You can listen to this entire recording below.
Track list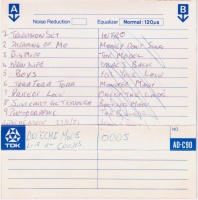 Lineage
Complete soundboard recording
Lineage: soundboard -> master tape (unknown type) -> first generation TDK AD-90 cassette tape, 1979 - 1981 tape stock, duplicated on a Sharp cassette deck with Dolby B engaged -> Sony TC-K390 cassette deck, Dolby B engaged -> WAV (16/48) -> MP3 320kbps 48khz downloaded from museodepechemode.com circa January 21, 2014 (archive.org link; live link dead when checked on 2018-06-29) -> mp3DirectCut 2.16 (losslessly split into tracks) -> MP3 320kbps 48khz tracks
Generation: first
Transfer: CPR
Download