1981-09-26 Paradiso, Amsterdam, The Netherlands
From DM Live - the Depeche Mode live encyclopedia for the masses
Jump to navigation
Jump to search
Notes
Seven tracks from this concert were broadcast by VPRO FM, and an audience video and audio recording are available. Dave refers to What's Your Name? as "Pretty Boy".
Dave Gahan said in the 1986 Star Hits Seriously Cool Scrapbook:
"I always think of the Paradiso Club where dope is legal and there's all these dealers walking around going "Hey, maan..." Everyone is totally stoned and usually by the time the band comes on, everyone's like lying on the floor."
Intensive Care was the support act.
Set list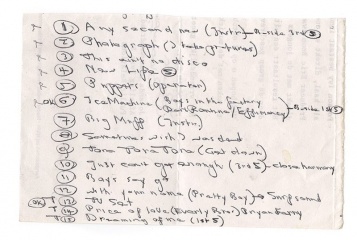 Sources
Source 1 is a stellar sounding FM broadcast of seven tracks.
Source 2 is a decent audience video recording.
Source 3 is a decent audience audio recording, sourced from the video source found at Source 2 but without the terrible buzzing / ringing noises throughout. It's much more muffled and hissy however, but I feel like that's easier to listen to than headache-inducing buzzing grating away at my ears.