1982-12-09 University Aula, Saarbrücken, Germany/Source 1
From DM Live - the Depeche Mode live encyclopedia for the masses
Jump to navigation
Jump to search
Notes
A very good audience recording. In comparison to the previously available source, this audio is much less hissy, significantly clearer, and plays at the correct speed. However, three seconds of music from the beginning of Oberkorn (It's A Small Town), one second before the beginning of Leave In Silence, and about one minute of audience noise after Photographic are absent on this tape, but were present in the previous source. The cassette's exact generation is unknown but is assumed to be of low generation.
Unfortunately, "Just Can't Get Enough" was not recorded, probably due to a late tape flip.
Many thanks to Pascal K. from Madrid - Spain for generously providing this cassette for archival, and thanks to the unknown taper who originally recorded the concert.
Listen
You can listen to this entire recording below.
Track list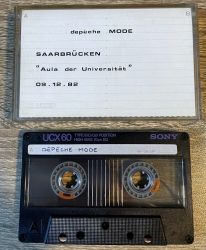 Lineage
Unknown taper and equipment -> unknown generation, assumed low-gen copy -> Sony UCX60 high position cassette, 1985 stock -> Nakamichi MR-1 professional discrete head cassette deck (pitch and playback azimuth optimized) -> "Worlds Best Cables" 6-foot Mogami 2534 cables with Neutrik XLR and TRS plugs -> Focusrite Scarlett 2i2 3rd gen USB audio interface -> recorded at 32-bit 88.2kHz in Audacity 3.3.3 using WASAPI input -> in Audacity 3.3.3: level adjustments, normalized to -0.1dB and any DC offset removed, track splits -> WAV (24/88.2) tracks -> downsampled to FLAC level 8 (16/44) using foobar2000 v2.0, FLAC 1.4.2 64-bit, and foobar2000's Resampler (RetroArch) component at "Highest" quality, dithering enabled
Transfer: DMLiveWiki on September 4, 2023
Cassette tape photo and auCDtectTaskManager log included
Download