1983-04-03 New Latin Quarter, Tokyo, Japan
From DM Live - the Depeche Mode live encyclopedia for the masses
Jump to navigation
Jump to search
Notes
Depeche Mode played a 5PM and 8PM concert at this venue, which had a maximum of 300 people. There is a good, although rather muffled audience recording available of the 5PM concert. There were keyboard problems during See You; incorrect keyboard samples were played throughout the song.
Dave Gahan told No. 1 magazine for their May 21st 1983 issue, "The Japanese are weird [as well as the Thais]. They sit in total silence throughout the gig and then clap at the end. Very odd, but was lots of fun."
According to attendee Satoshi Iwase who attended the 8PM show, Kensho Onuki DJed before the show. The fan also reports that Daniel Miller was in attendance.[1]
Setlist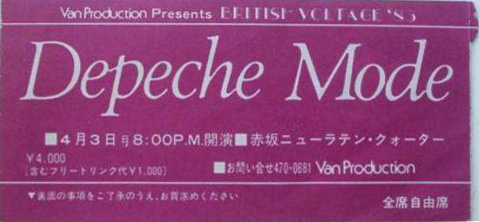 Sources
Source 1 is a good, though rather muffled audience recording of the 5PM concert.
References
↑

Thanks to Moto for translating this tweet for us.