1983-12-10 Musensaal, Mannheim, Germany
From DM Live - the Depeche Mode live encyclopedia for the masses
Jump to navigation
Jump to search
Notes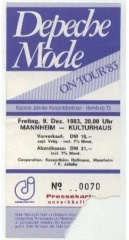 According to some tickets for this gig (see right), the concert was planned for 1983-12-09 Kulturhaus, Mannheim, Germany, which has a capacity of 450 people. However, some edited tickets (presumably pressed later on) have crossed out this information, and show that the concert was moved to the 10th, at the Musensaal in the Rosengarten, which has a capacity of 2000 people.
Sense was the support act.
Set list
Sources
Source 1 is a very good audience recording.