1984-11-02 Hammersmith Odeon, London, England, UK/Source 3
From DM Live - the Depeche Mode live encyclopedia for the masses
Jump to navigation
Jump to search
Notes
A very good FM broadcast recording. The previous transfer of this recording was a little bass heavy and had a sort of "breathing" effect to them due to Dolby mistracking. This retransfer was done on the final high-end cassette deck Nakamichi manufactured versus a Sony Walkman Pro that was, according to the taper, "past its best". It is a big upgrade in sound quality and sounds significantly better overall. Bass is improved, all high frequencies are present as they should be, there is significantly less wow & flutter, and there are no Dolby mistracking artifacts. The only thing I had to do to the audio was adjust the speed and apply a bit of normalization to even out the channels somewhat. Thanks for your effort in retransferring your original tape and for providing a high-resolution 24/96 transfer, twosheds!
This FM broadcast included Blasphemous Rumours which is not found on the BBC pre-FM promotional vinyl, but misses "Something To Do" and "Puppets" which are present on that vinyl. I have read that there was another radio broadcast which included "Puppets", but a recording of that broadcast has not surfaced yet. Nonetheless, "Puppets" can be found on the pre-FM vinyl, so it is not a big loss. If You Want fades in and misses the very beginning of the intro ambiance before the song begins. Everything Counts is missing the first couple seconds, most likely due to the 45 minute tape flip.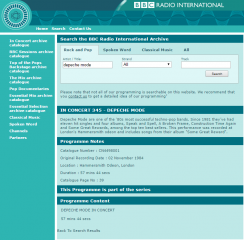 REVISION A Note: The date of this recording has been corrected to November 2, 1984, based on the BBC Radio International catalog search page. See right. No change to the audio has been made.
Other recordings from this concert exist:
Listen
You can listen to this entire recording below.
Track list
Lineage
Complete FM broadcast recording
Lineage: NAD 4020 Tuner or possibly a Yamaha (unknown model) -> Naim 32.5 preamp -> Nakamichi BX-100E (Dolby B on) -> Sony BHF 120 normal position cassette -> Nakamichi DR-10 cassette deck (Dolby B on) -> Creative Sound Blaster X-Fi HD USB -> Audacity (24/96 capture) -> dBpoweramp -> FLAC (level 5) -> in Adobe Audition CC 2015: speed adjusted 2.0% to 2.25% (start and end), channels independently normalized to -0.1dB and any DC bias removed -> WAV (24/96) -> tracked using Audacity 2.1.1 -> WAV (24/96) tracks -> FLAC 24-bit 96khz using FLAC 1.3.1 64-bit (level 8 compression) and foobar2000 v1.3.8
Taper: twosheds
Generation: master; tape retransferred by twosheds on May 7, 2015 and shared on DIME May 11, 2015
auCDtectTaskManager log included
Download