1990-06-18 Radio City Music Hall, New York, NY, USA/Source 1
From DM Live - the Depeche Mode live encyclopedia for the masses
Jump to navigation
Jump to search
Notes
A good audience recording. Kaleid is complete on this source compared to Source 2, but this tape is missing "Policy Of Truth" and "Strangelove" which are present on Source 2. Both sources are missing "Stripped" and "Clean", presumably because they were not recorded.
This concert is particularly noteworthy because it includes an acoustic performance of Little 15 instead of the usual "Sweetest Perfection" that was coupled with Here Is The House. This concert was the first of only three live performances of the song in this format (see Little 15/Live performance dates for the other concerts).
This tape is said to have been purchased from Goldmine shortly after the show; based on that, as well as the overall improved sound quality compared to Source 2, this is assumed to be a low-generation tape. There is still some distortion and wow & flutter present overall, perhaps indicating that this was taped with average equipment. It is likely that "Policy Of Truth" and "Strangelove" were not included on this tape copy due to time constraints of the tape since this was copied using a 90-minute cassette.
Source 2 is more complete as described earlier, but sounds significantly worse as there seems to be harsh noise reduction applied to the recording, resulting in an unenjoyable listen. Source 2 also plays too fast, whereas this recording plays at the correct speed.
Many thanks to James K. for providing this cassette for archival.
Listen
You can listen to this entire recording below.
Track list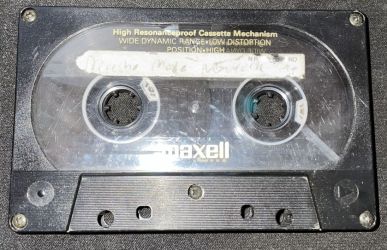 Lineage
unknown taper and equipment -> low-generation Maxell XLII-S high position cassettes, 1985 - 1986 US stock -> Nakamichi MR-1 professional discrete head cassette deck (playback azimuth and pitch optimized) -> Mogami 2534 XLR to TRS cables -> Focusrite Scarlett 2i2 3rd gen USB audio interface -> WAV (32/88.2) -> recorded in Audacity 3.2.3 using WASAPI input; stereo channel phase alignment, normalized to -0.1dB and any DC offset removed, track splits -> WAV (32/88.2) tracks -> downsampled to FLAC level 8 (16/44) using foobar2000 v1.6.14, FLAC 1.4.2 64-bit, and foobar2000's Resampler (RetroArch) component at "Highest" quality, dithering enabled
Generation: low-gen
Transfer: DMLiveWiki on January 8, 2023
Cassette tape photo & auCDTectTaskManager log included
Download