2001-06-22 World Music Theatre, Chicago, IL, USA
From DM Live - the Depeche Mode live encyclopedia for the masses
Jump to navigation
Jump to search
Notes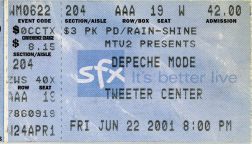 Allegedly, Martin missed his cue on I Feel Loved.
Here is the diary entry from DepecheMode.com:
I am writing this as the band is on stage - seen the show a few times already! Anyways, we are in Chicago and leaving tomorrow for Detroit. Chicago is a very beautiful city with so many things to do. We had a dinner last night hosted by Jeff McClusky (independent radio guru) that was really nice. There were about 40 or so people there and everyone seemed to have a good time. Then afterwards we went to a club down the street - I think everyone had a little TOO much fun. We all seem to be a bit more slow paced today than normal, a little more quiet and out of it!

The show seems to be going well - the band has been on stage for about an hour now and the venue is really pretty and outside. At the meet and greet tonight, the guys were greeted with a round of applause - first time that has happened so far. I think they were pleasantly surprised and it got them excited for the show.

A familiar guest is here tonight - Billy Corgan of the Smashing Pumpkins, an old friend and fan of the guys.

Okay, that is it for now. Not too sure what our plans are tonight, but it is our last night in Chicago, so we must enjoy!

Author: Brat
Poe was the support act.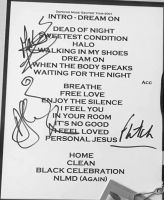 Set list
Sources
Source 1 is a decent audience recording.