2001-07-01 Tweeter Center for the Performing Arts, Boston, MA, USA/Source 2
From DM Live - the Depeche Mode live encyclopedia for the masses
Jump to navigation
Jump to search
Notes
A very good audience recording sourced from master MiniDiscs. There are a few screamers near the taper, but thankfully they are quiet during songs for the most part. Bass can be just slightly distorted at times depending on the song. Halo has a small glitch toward the end, Walking In My Shoes has a small gap at the beginning, Enjoy The Silence has a small gap toward the ending, and a few seconds from the beginning of I Feel You are missing due to MD change. Unfortunately, the recording ends after Personal Jesus as an aisle attendant caused the taper to hide the device before the encore.
Immense thanks to davevil for lending me his MD masters all the way from Japan. Also, many thanks to Ryan J from ninlive.com for donating his old Sony MD player which I used to digitally transfer these MD masters.
Listen
You can listen to this entire recording below.
Track list
Lineage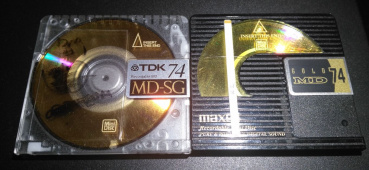 unknown recording equipment (likely Sony mic + MD recorder) -> MiniDisc masters (TDK MD-SG 74 & Maxell Gold 74) -> Sony MDS-S707 MiniDisc player (digital optical SPDIF out) -> Creative SoundBlaster ZxR (optical SPDIF input, "75" input level) -> Audacity 2.1.3 (WASAPI) -> normalized to -0.1dB, track splits -> FLAC level 8 (16/44)
Taper: davevil
MiniDiscs photo and auCDtectTaskManager log included
Download