2001-08-11 Coors Amphitheatre, San Diego, CA, USA
From DM Live - the Depeche Mode live encyclopedia for the masses
Jump to navigation
Jump to search
Notes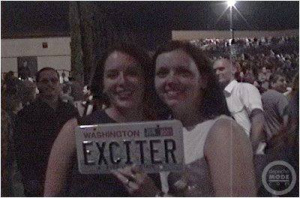 Here is the diary entry from DepecheMode.com:
On the Singles Tour, San Diego was one of the best shows. The main reason was the fanatical Mexican fans that came across the border for the show. This show was no different. The Germans still have Mexicans beat for pure devotion and energy, but not by much.

Another loud and great show, minus a few technical glitches. For some reason, the sound on stage left (the right side of the stage) was shorting out all night long. And, during "Waiting For The Night To Fall", Martin and David were about a half a beat off on the singing for most of the song. I was actually impressed that they were both singing the song incorrectly, but still in perfect unison! For me, the only bad part was the height of the stage. It was very difficult to get good pictures for you all. At the end of the show, two girls walked up to me, displaying their "Exciter" license plate - definitely worthy of a picture.

After the show, I drove straight home to L.A., minus my "plus one", "site visitor" Asif (there was no after show - the band left directly for Los Angeles). Sad thing is that a 90 minute drive took over 4 hours. I guess the lack of sleep caught up with me, because I almost crashed no less than 7 times. Nothing like blinking, then opening your eyes to see you've magically drifted 1.5 lanes to the right. Suffices to say I pulled over a few times, and caught enough quick cat naps to get home in one piece. I lived long enough to give you a page of images from the San Diego show.

Author: Brat
Poe was the support act.
Set list
Sources
Source 1 is Slickmode's decent master audience recording. Bass is boomy and distorted.
Ticket scan