2009-05-12 Terra Vibe Park, Athens, Greece
From DM Live - the Depeche Mode live encyclopedia for the masses
Jump to navigation
Jump to search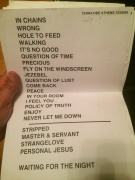 Notes
Here is the official announcement on www.depechemode.com:
On Tuesday, May 12th, 2009, at 9pm (local time), the sudden feeling of physical discomfort that hit the singer of Depeche Mode, Dave Gahan, just a few minutes before going on stage for the band's performance, resulted in his immediate transfer to the hospital and the postponement of the band's show.

Even though everyone hoped for the singer's speedy recovery and the rescheduling of the band's show for today, May 13th, 2009, according to the information received by the band's management and the doctor on duty, the artist's health condition does not allow it.

Shortly, a new announcement will follow that will regard either a new date for the show of Depeche Mode, or its final cancellation.

The show's organizers kindly request that all you ticket holders keep your tickets as these will guarantee you your entrance if a new show date is scheduled or will allow you to get a refund in the event that the show is cancelled altogether.

Thank you all for your understanding.
Andy Fletcher responded in 2016:
Q: It's been eight years since your... "almost" concert in Athens. What really happened?

Andy: Oh yes! In Greece we had "that" incident. It was such a weird night. It was the second concert of the tour. Twenty minutes before we went on stage, we were standing backstage with Martin, drinking wine, having some anxiety because it is only the second concert of the tour, and suddenly the manager comes in and says: "Dave is sick." And then he began to shout: "We need to leave here now. Someone will come in a moment to make the announcement, the world will get brutal."
When Martin Gore was asked by Yedioth Ahronoth in 2013 if the Greek fans "understood the cancellation", he replied:
"Understand? They threw fireballs on stage after we announced the cancellation. I'll never forget it."
Dave Gahan told 'Loud & Quiet' magazine in March 2017:
"During the making of 'Sounds of the Universe' [2009] I'd not been feeling good. I had no energy a lot of the time. I would have enough energy to do the sessions in the studio and I'd get home at night and say to the wife that I was so tired. I was kind of crashing out at 9 in the evening, and I wasn't really telling the guys. But then it all made sense when I was diagnosed. I used to say to, Jen, my wife, 'I don't know if I'm going to be able to do these shows.' So then we were in Athens and I was having excruciating pain in my gut. Well, it felt like my gut but it wasn't. So that night the doctor came to the dressing room, five minutes before we were due on stage. I'd been throwing up a bit — I hadn't been talking about that. Little bit of blood in my urine — I hadn't been talking about that. I just thought all these things were wear and tear. But I got rushed to hospital and while the doctor was doing an ultrasound he looked at me and looked at the screen again. I said: 'I know I'm not pregnant!' and he said 'Well, I see something and I have to get someone else in.' So I said: 'What do you see?' and he said: 'I see a shadow.' I've heard that in movies. It just so happened that there was an oncologist there and I got on the MRI and they said that they could do the surgery there and then. You have a sac in your bladder and you have another sac on the inner sac, and the cancer hadn't got through the walls yet. It's an amazing looking thing! My wife was like: 'What are you looking at pictures of your tumour for?' But it looked like a sea urchin with all these alien tentacles! It's an amazing thing. But if they go undiagnosed and it goes into other organs you're done, really."
Dave also told Q magazine in March 2013 and Cafe Magazine in 2012:
"It was 20 minutes until we were about to go on stage in Athens and I was completely exhausted backstage. I tried to sing, and between each song exercise I would vomit. I asked myself, 'Am I nervous? What's wrong with me?' After half an hour, my son came in and said, 'You look a bit nauseous.' So my manager called up a doctor. He took a look at me and sent me directly to the emergency room where they did a lot of tests and an ultrasound. At first they said, 'It's a stomach virus.' But this doctor looked at the screen and said, 'I can see something.' 'Well, I know I'm not pregnant,' I replied. 'No, it's a shadow, a tumour in your bladder,' an oncologist answered. They could already operate the following morning. The oncologist knelt down beside my bed and said, 'This is your chance. We found the tumor early. We can remove it and you will recover.' I began to negotiate with him: 'I'm on the road, an eight-month tour. Can we do this in a few months?' My denial was amazing. He replied, 'Are you crazy? You have cancer! It hasn't broken through the wall of your bladder. Do you know how many people get this chance when we see the cancer early like this?' Then it hit me: cancer... Wow, I was not expecting that. The surgery was done in New York, we had to delay the tour and I received radiation therapy. It was a struggle after that. Today, I'm glad to still be here, to be alive."
The cancelled concerts that followed after were a bit of a bittersweet blessing for Andy Fletcher, since his father John had died on the day of the concert in Tel Aviv two days before. He told Yedioth Ahronoth in 2013:
"Paradoxically, [the delay of the tour after Dave Gahan got diagnosed with cancer] gave me the opportunity to attend my father's funeral, which was nice. The whole spectacle was all very surreal."