2009-05-10 Ramat Gan Stadium, Tel Aviv, Israel
From DM Live - the Depeche Mode live encyclopedia for the masses
Jump to navigation
Jump to search
Notes
Martin and Andy told The Guardian in 2009:
Martin: "[W]e're going to be starting our tour in Tel Aviv - we were supposed to end our last one there but unfortunately the Israel/Lebanon war got in the way of it."

Fletch: "They've got different agendas. They like music, but missiles are just more important."

Martin: "Yes. We had to make the decision not to fly in and do the gig because there were missiles flying around and to make up for that we're starting this time in Tel Aviv."
This was the last time that In Sympathy was played, with the only other time of it having been played being 2009-05-06 Luxembourg. In 2013, right before the 2013-05-07 HaYarkon Park, Tel Aviv, Israel concert, Israeli newspaper Yedioth Ahronoth informed Depeche Mode that "the Israeli audience was disappointed with the low amount of hits at the [2009-05-10] show", and they replied:
Dave Gahan: "I know, I know. It won't happen again this time. We are coming out with a new album [Delta Machine], but we'll mix it with more familiar songs. This will be a different kind of performance [than on 2009-05-10]. I think you'll enjoy it."

Fletcher: "It was a mistake. We changed the setlist of songs after the [2009-05-10] show since we felt we had played too many new songs. It was a bit unfair to you, being our first time in Israel, but back then we had thought about the performances all over the world and not just you."
Dave Gahan said in 2013:
"We probably have [caught shit for playing in Israel], but why should it? Music is universal. It's the one thing that actually brings people together and crosses political boundaries. And politics doesn't really come into music for us. We've always gone to places where we've been told not to or whatever. For us it's an opportunity to play somewhere with a lot of people who've been listening to our music for a long time. And when we played there for the first time in front of forty or fifty thousand people, we could feel that they've been waiting for this to happen. It was the day after my birthday and I hadn't even given it a thought until the entire stadium sang "Happy Birthday", which Martin started. I have an MP3 of it."
Andy Fletcher's father had also died the day before this concert. Fletcher told Yedioth Ahronoth in 2013:
"[My father's death] was a huge shock to me; it's really bizarre to perform when you know your father just died. Throughout the show, flashbacks from my father's life were running by. I did not think about canceling the show, especially after we had canceled the show in 2006, but it certainly was strange to go onstage. I could have shattered to pieces. Fortunately, my wife and my mother arranged everything. Paradoxically, [the delay of the tour after Dave Gahan got diagnosed with cancer two days later] gave me the opportunity to attend my father's funeral, which was nice. The whole spectacle was all very surreal."
Guy Mar of Hadag Nahash was the DJ, and Terry Poison and the Yeah Yeah Yeahs were the support acts. Israeli model Bar Refaeli was in attendance.
NOTE: This concert was officially released by Live Here Now and at one point sold on the official depechemodelive.com, which is currently defunct. Concerts with LHN releases generally do not have audience recordings widely circulating, and as such there may not be a recording available on this website for this concert.
Video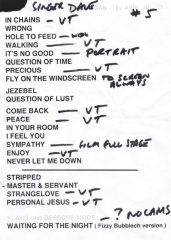 Set list
Set list info obtained from the Home forum.