2013-03-24 MuseumsQuartier, Vienna, Austria
From DM Live - the Depeche Mode live encyclopedia for the masses
Jump to navigation
Jump to search
Notes
Depeche Mode's third promotional gig of the 2013 - 2014 Delta Machine Tour. The downloads on this page are for the demuxed audio from DepecheModeVEVO's YouTube videos of this concert, in two formats detailed below. Each track has fades, but otherwise it is a complete concert.
The M4A audio is demuxed from the 720p MP4 YouTube streams and is the best option for portable devices and easy playback on nearly any device today. This is considered Source 1.
The OGG audio is demuxed from the 1080p WebM YouTube streams and has somewhat better frequency response over the MP4 version, and there is certainly a small audible improvement. The downside to these OGG files is that few portable devices will play them, and iTunes will also not play OGG files, as far as I know. This is considered Source 2.
If you are unsure, get the M4A torrent (Source 1).
People in America can watch this concert on Columbia Records' website, others will have to find one of its reuploads on YouTube. To avoid copyright issues, a torrent of the video is not offered.
Michal Matejcík was the support act. H.P. Baxxter of German techno group Scooter was in attendance.
Set list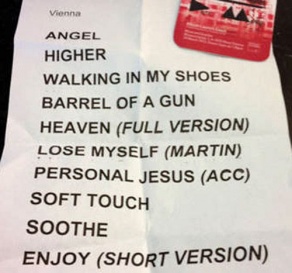 Set list info obtained from the Home forum.
Sources
Source 1 is the M4A audio demuxed from the 720p YouTube streams. Most people will want to download this source.
Source 2 is the OGG Vorbis audio demuxed from the 1080p WebM YouTube streams. If you know what to do with these files, get this version as it's slightly higher in quality over the M4A version.
Ticket