2013-06-05 Commerzbank Arena, Frankfurt, Germany
From DM Live - the Depeche Mode live encyclopedia for the masses
Jump to navigation
Jump to search
Notes
Martin Gore and Douglas McCarthy in a joint interview:
Martin Gore: "We played Frankfurt a couple of shows ago, and that was amazing."

Douglas McCarthy: "Yeah, Dave said he went a bit mental in Frankfurt, and put his voice out. [laughs]"

Martin Gore: "But when you get so much energy from the crowd, you must do."
According to Billboard, the attendance was 40.960 people and the gross sale was $3,295,523.
Trentemøller was the support act.
Video
Set list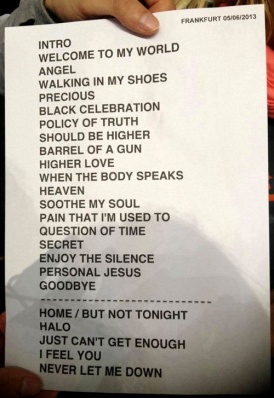 Intro
Higher Love (*)
But Not Tonight (*)
Set list info obtained from the Home forum.
Ticket